DOWNLOAD MY NEW FREE JOESTRADAMUS WEATHER APP FOR ANDROID
THE APP IS ABSOLUTELY FREE TO ALL BUT CONSIDERING SUBSCRIBING TO PATREON FOR A WEATHER EXPERIENCE FREE OF ADS, EXCLUSIVE VIDEOS FOR MEMBERS ONLY AND MUCH MORE…STARTS AT $2 A MONTH..MESSAGE ME AT ANY TIME

Cold Weekend Underway
Snowstorm Interior Southeast Mid Atlantic States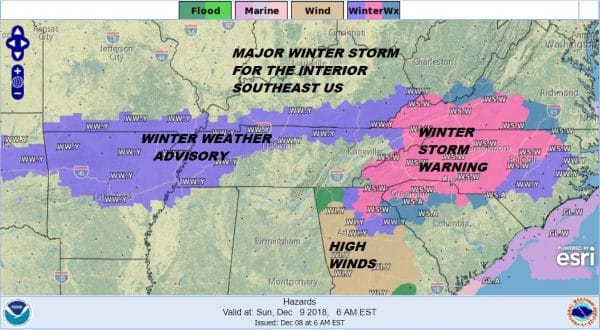 While we sit and enjoy a rather wintry cold weekend with sunshine and temperatures well below average we are doing it without any snow issue through the weekend. This is not the case for Southern Virginia and much of inland and Western North Carolina where heavy snow will develop later tonight and continue on Sunday. Those areas will see a foot or more of snow in some places along with significant icing. None of this is headed here as the storm responsible will be staying well to our south. The satellite loop shows not much in the way of cloud cover here with high clouds from the southern storm well to our south. Radars here are free and clear and will remain so through the weekend.
EASTERN SATELLITE

REGIONAL RADAR

Temperatures today will only reach the low to mid 30s and we will see another cold night. Sunday morning lows will be in the teens north and west of the coast and low to mid 20s in the warmer urban and coastal locations. Sunday we should see plenty of sunshine with just some high clouds well to the south. Highs will be in the mid to upper 30s.
The week ahead starts dry and we won't see any precipitation until Thursday at the earliest as warmer air begins to move eastward and high pressure to the north finally gives way. It has been a while since we have strung more then 2 or 3 dry days in a row so it would be a good idea to enjoy the nice weather while we have. Make sure you dress warmly if you headed out and keep the fireplace going.
MANY THANKS TO

TROPICAL TIDBITS

FOR THE USE OF MAPS
Please note that with regards to any tropical storms or hurricanes, should a storm be threatening, please consult your local National Weather Service office or your local government officials about what action you should be taking to protect life and property.
LATEST JOESTRADAMUS ON THE LONG RANGE