Cold Shot Moves Out 60s Thursday
Cold Shot Moves Out 60s Thursday
The next in a series of cold shots is arriving tonight and just like the others in the last couple of weeks it will come in for about 36 hours and then out it goes and then we warm up again. As we get deeper into February, the warm ups are going to be start to widen out a bit with higher highs. This will reach its peak on Thursday as the next warm front cold front combination moves through. In between the two fronts we will reach the 60s and there will be showers before the warm air arrives and ahead of a cold front Thursday night into Friday. Meanwhile we see the last of today's clouds on the satellite loop moving offshore as skies clear out. Temperatures have been in the upper 30s to lower 40s all day and we will be down in the teens to low 20s Tuesday morning.
US SATELLITE

REGIONAL RADAR

Radars are quieting down now that the cold front is well offshore. We won't have precipitation to worry about through Wednesday daytime. Tuesday looks nice and sunny with highs in the mid 30s to near 40 in most places.
TUESDAY'S FORECAST HIGHS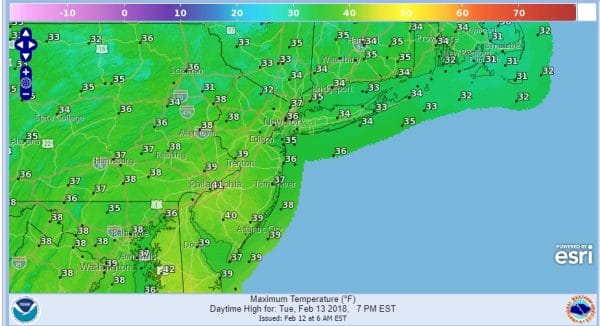 Wednesday we start to warm up again with sun and clouds with highs in the upper 40s to lower 50s. Even warmer air arrives on Thursday as we are headed into the 60s. We will see some showers ahead of that warm air Wednesday night with a warm front going by. Then some breaks of sun during the day Thursday followed by more showers Thursday night into Friday morning. After that it is another quick shot of cold air that comes in Friday night and into the weekend.
As for the long range this up and down pattern continues for another 10 days or so with signs of change after that. But by then we will be near the end of the month so how much time is there left for any kind of important or sustained cold and snow? JOESTRADAMUS talks about this in the long range.

GET JOE A CIGAR IF YOU LIKE 
FiOS1 News Weather Forecast For Long Island
FiOS1 News Weather Forecast For New Jersey
FiOS1 News Weather Forecast For Hudson Valley
LATEST JOESTRADAMUS ON THE LONG RANGE