Cold November Afternoon Record Lows Tonight
CHRISTMAS SHOPPING COUPONS
Cold November Afternoon Record Lows Tonight
This would be a typical mid January afternoon but it is a cold November afternoon with temperatures now off the daytime highs and beginning to fall off as we head for record lows tonight.
Temperatures are in the mid 30s and factor in the wind and it feels like it is in the lower 20s. Tonight we head down toward record lows in the mid teens to low 20s under clear skies with less wind. The satellite loop shows clouds drying up as the move southeast across NY State and there are no snow showers to worry about.
SATELLITE LOOP

REGIONAL RADAR

There are no important changes in the short range outlook. Saturday sunshine will bring temperatures back to the upper 30s and lower 40s. Saturday night into Sunday morning we will see mainly clear skies with light winds so record lows are possible again away from warmer urban centers.
SUNDAY MORNING FORECAST LOWS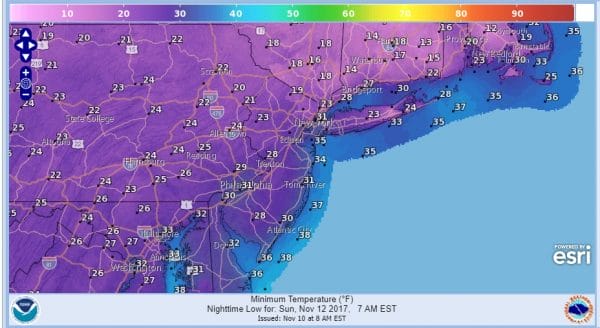 Sunday we will have sunshine and some high clouds with highs back to the upper 40s to near 50. A weak system moving through Monday will have a few clouds but not much else with highs in the lower 50s. Much of next week will be quiet with some sunshine and near seasonal weather conditions. It will not be until next weekend when a cold blocking pattern sets up which will lead to colder weather for Thanksgiving week and beyond
JOESTRADAMUS HAS MORE ON THE LONG RANGE BLOCKING AND THE IMPLICATIONS FOR COLD AND SNOW

GET JOE A CIGAR IF YOU LIKE 
CHIRSTMAS SHOPPING COUPONS
FiOS1 News Weather Forecast For Long Island
FiOS1 News Weather Forecast For New Jersey
FiOS1 News Weather Forecast For Hudson Valley
LATEST JOESTRADAMUS ON THE LONG RANGE