Cold Night Ahead Dry Through Friday Cold Rainy Saturday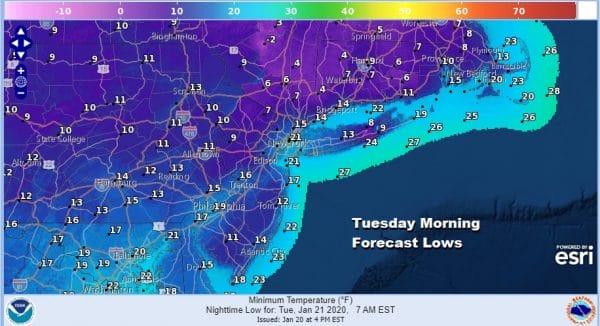 In spite of a good deal of sunshine it was a very cold Monday with temperatures day either barely making it back to the lower 30s or in many cases not getting out of the 20s. Skies are clear for the most part except for some clouds well inland. Skies will be clear tonight and it will be another cold night with lows in the teens and even a few single digits showing up in the coldest places well north and west of the coast.
SATELLITE

REGIONAL RADAR

We continue to enjoy quiet radars and dry conditions for the rest of the work week. Skies will be sunny on Tuesday with temperatures struggling again along with a gusty breeze making it feel about 10 degrees colder. Highs will be in the upper 20s and lower 30s. Wednesday the cold high dropping from the upper Midwest will finally settle over head bringing sunshine and moderating temperatures for both Wednesday and Thursday. We should be in the 30s everywhere Wednesday and then we will take a jump up into the 40s Thursday as the cold high moves out to the east. Friday look for sunshine and arriving clouds with highs in the low to mid 40s.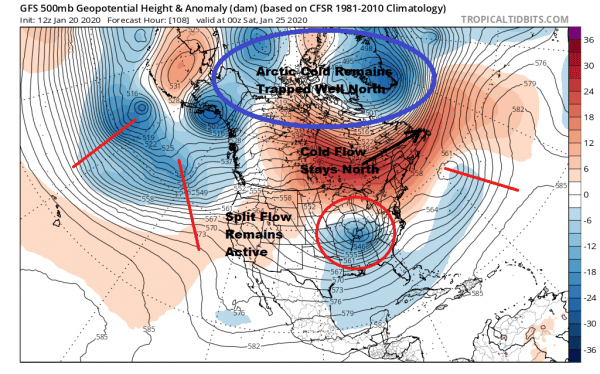 While the pattern has certainly changed from the end of December and the first half of January it has not changed for the better for snow lovers. Arctic cold remains trapped up in the Arctic thanks to the polar vortex being locked up near the North Pole back to Siberia. There is a cold flow of polar air that is bleeding south into Canada however the southern extent of that cold air barely makes it south to our latitude. While that is going on we have an active southern jet stream split somewhat from that Canadian flow and that is bringing weather systems across. The amount of cold air bleeding into the Northern part of the US is minimal and doesn't extend far enough south.
The next low from that southern part of the jet stream will be moving out of Texas northeastward on Saturday with the low probably redeveloping nearby as so many have this winter. To the north lies some cold air but it probably won't be enough to cause snow except well north and west of the coast unless it were to be a little stronger and winds up bleeding further south. This would leave us with a cold rain to deal with on Saturday into Saturday night while elevated areas well north and west of the coast might have a shot for some snow to get involved at some point. Sn ow lovers may be left very disappointed with a busier pattern of storms coming one after another but no cold air being supplied or at least not enough cold air being sent southward. We will watch to see how this plays but it is hard to see a different outcome with the polar vortex locked up so far north in Canada. Weather conditions should improve on Sunday as this system moves out but another may follow early next week with a similar outcome.
MANY THANKS TO TROPICAL TIDBITS FOR THE USE OF MAPS
Please note that with regards to any severe weather,  tropical storms, or hurricanes, should a storm be threatening, please consult your local National Weather Service office or your local government officials about what action you should be taking to protect life and property.