VERY COLD INTO NEW YEAR SNOW THREAT YEAR END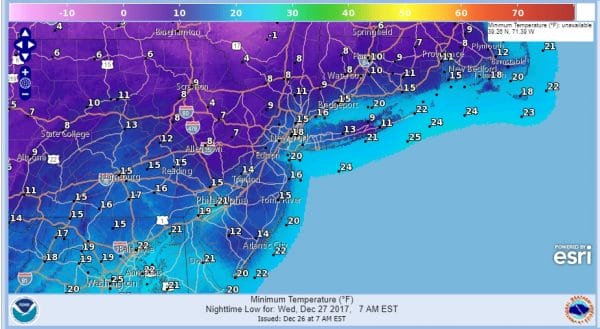 VERY COLD INTO NEW YEAR SNOW THREAT YEAR END
We are now below freezing and don't expect to get above it again for the next 2 weeks it seems. In fact we will see some brutally cold air along the way with lows in the single digits beginning Wednesday morning of this week and lasting into the weekend. Another brutal cold shot of air that may be colder than this one will arrive early next week as 2018. The question is whether the two air masses will be separate by some sort of threat for snow. Actually both major weather models show something happening in between with one suggesting Sunday night into Monday as the New Year chimes in, and the other Saturday night into Sunday as the old year goes out.
SATELLITE LOOP

In the meantime this morning we bottomed in the upper teens and lower 20s and skies have cleared out. We should see a fair amount of ineffective sunshine as temperatures make their way up toward the upper 20s to a few lower 30s. Radar shows a little lake effect action going on upstate but for the most part we don't have any radar issues to contend with.
REGIONAL RADAR

Tonight we will drop to single digits to mid teens under a clear sky and then it is not out of the 20s by day Wednesday through Friday and nights will be in the single digits and low teens the rest of the way.
SNOW THREAT THIS WEEKEND?
A second and even colder air mass will be lining up to drop into the Eastern US over the weekend and it will bring some brutally cold air. In fact with this air mass it is likely that we will string together a stretch of single digit lows with many areas away from the urban centers likely to go below zero for several nights in a row. To bring that air mass in will require a storm of some sort to develop somewhere but models are having an utterly difficult time picking out which energy is going to play out.
EUROPEAN MODEL SATURDAY DECEMBER 30 7PM
GFS MODEL MONDAY JANUARY 1 7AM
The European suggests a repeat performance of the Christmas Eve Christmas morning event with two important differences. One is that it is much colder so it is snow for everyone. The second is that the low starts out a little further south which brings substantial snows from Central New Jersey to Southern New England. The GFS ignores this and focuses more on energy in the southern stream and brings snow for Sunday night into Monday morning. It is hard to say which model has the better idea since neither one has been hitting home runs lately. It would seem the Europeans idea matches up with what just happened better than the GFS but that is really all we have to go on at the moment.

GET JOE A CIGAR IF YOU LIKE 
FiOS1 News Weather Forecast For Long Island
FiOS1 News Weather Forecast For New Jersey
FiOS1 News Weather Forecast For Hudson Valley
LATEST JOESTRADAMUS ON THE LONG RANGE