Cold Lasts Into Monday As Temperatures Slowly Moderate Into Thanksgiving
Cold weather continues today as another upper trough swings across the Northeast though this wwill be the last of the upper troughs going by. The lake effect snow machine which produced all time records for snowfall in Western NY continues today in North Central NY but this should be the last day of the massives snows. As for Eastern Pennsylvania to Southern New England it will be a day with sunshine and some passing clouds, a gusty wind, and temperatures that will be in the 30s to around 40.
SATELLITE

WEATHER RADAR

The west wind over Lake Ontario is producing big snows north of Syracuse to Pulaski and Watertown while that same wind direction shows radar echos in Southwestern NY. Other snow showers are showing up in Upstate NY but we don't expect anything other than perhaps in the Catskills and Northeast Pennsylvania. Everyone else should be dry. Skies tonight will be mostly clear and cold with lows mostly in the 20s.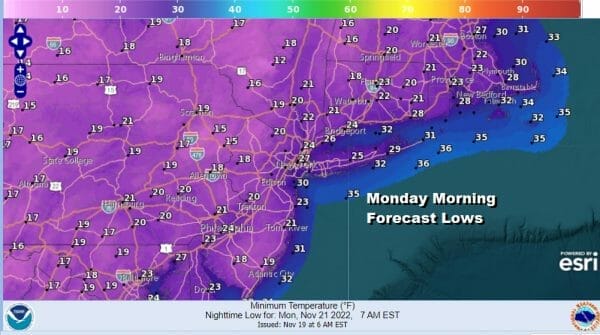 The early cold pattern finally starts to relax and slowly pull away to the Northeast though there is one more upper trough and cold front that will drop southeast from Eastern Canada. It won't do much other than to slow the warming process. Monday we will see sunshine and a few clouds. Highs should be back into the lower 40s.
This is a big week for travel especially Tuesday and Wednesday and at least the weather across much of the US will be on the quiet side. There are no major storms on the horizon anywhere in the US and the areas that are experiencing precipitation are at a minumm. Tuesday we will see some sunshine with highs reaching the mid to upper 40s. Wednesday we will take it up another notch with highs in the upper 40s and lower 50s which is a little closer to average for this time of year. We will have some sunshine on Wednesday.

Low pressure in the Gulf of Mexico will pass off the Southeast coast and head out to sea early this week. That is really the only system on the map and that means that our decemt weather continues into Thanksgiving Day. High pressure will build into Souteastern Canada and will hold there for a day or two.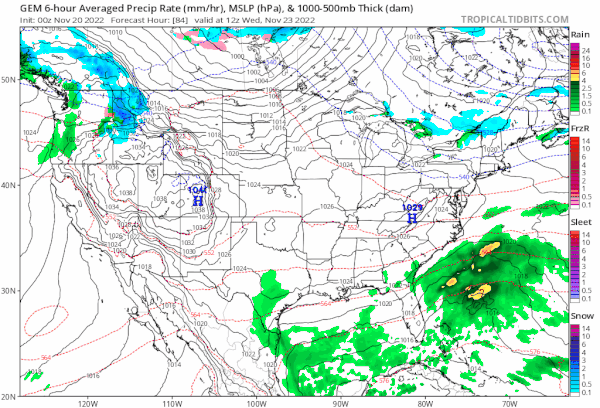 We also have a cold front that will start to swing through the Great Lakes as a system in the southern part of the jet stream moves across the Gulf States Thursday and then a low forms off the Southeast Coast Thursday night. This creates no issues for Thanksgiving day which should be a day of sunshine and arriving clouds. Highs will be back into the 50s.
The front heads east and the low moves north Thursday night into Friday night and that will bring rain here for Friday the traditionally big kickoff day to holiday shopping. We are still not sure exactly how this ultimately plays out but it will be rain and not snow which is a good thing.  Friday highs will be in the mid 40s to near 50. Rain should exit late Friday night or early Saturday followed by improving weather conditions next weekend.
Please note that with regards to any severe weather,  tropical storms, or hurricanes, should a storm be threatening, please consult your local National Weather Service office or your local government officials about what action you should be taking to protect life and property.