Cold Last Weekend Of Non Winter Winter
Week Ahead Mostly Quiet No Major Storms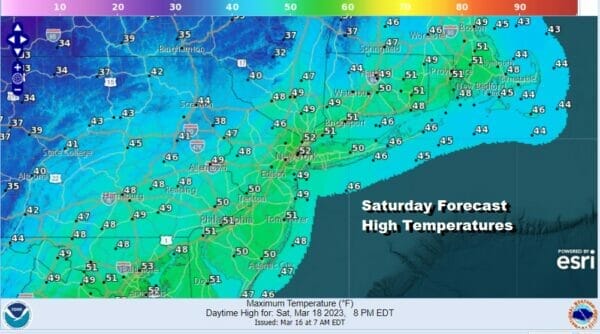 We have arrived at the last weekend of winter or as you well know, I have been calling it the "non-winter" winter. The winter season is ending on a calm note with a cold front that moved offshore overnight. It is still hanging around near the coast with showers just offshore and clouds that extend back into Pennsylvania. We also have a upper trough to the west but overall today we should see decreasing clouds and increasing sunshine along with an increasing gusty wind. Highs will be in the 40s to around 50 degrees. A cold air mass is building in from the west and skies should be clear tonight with a gusty wind and lows in the mid 20s to lower 30s.
The core of this current cold air mass will be overhead Sunday night and will begin to pass off the East Coast Monday morning. So after a cold night Sunday night into Monday morning with lows in the 20s except near 30 in the warmer urban locations. Monday We will see sunshine and highs should make it back to the mid and upper 40s and a few odd spots could reach 50.
SATELLITE

WEATHER RADAR

Weather systems will be moving along next week at a regular clip and it earlier appeared we might be dry into next weekend before we deal with the next important storm system and cold front. Storms will be tracking toward the Great Lakes as highs move offshore so we don't see anything other than rain.
uesday should be a nice mild day of sunshine with highs in the 50s. A cold front will move through Wednesday night and ahead of it we could have some rain late Wednesday into early Thursday with highs in the upper 50s and lower 60s. The front may hang around and stall waiting for another low to develop and head to the Great Lakes Friday into Saturday so this leaves the risk for some showers late in the week and into next weekend.
Please note that with regards to any severe weather,  tropical storms, or hurricanes, should a storm be threatening, please consult your local National Weather Service office or your local government officials about what action you should be taking to protect life and property.