Cold Front Thursday Ushers In Low Humidity Dry Pattern
Later Friday & the Weekend
Cold Front Thursday Ushers In Low Humidity Dry Pattern
Later Friday & the Weekend
We have a little work to do over the next couple of days. There is a stalled out frontal boundary offshore and it is going remain there into Thursday. It is waiting for another cold front to the northwest and an upper trough to move through the Northeast and that will usher in nice dry air for Friday and that should take right through the weekend. Meanwhile today we are sort of in no man's land. This afternoon we see clouds and sunshine and remains on the humid side. Temperatures this afternoon will be in the low to middle 80s which is reasonable but it will reman uncomfortable. We are not forecasting any thunderstorms for this afternoon and evening but we can't rule out the odd isolated shower.
SATELLITE WITH LIGHTNING STRIKES

WEATHER RADAR

We see no real issues tonight other than some clouds and perhaps some patchy fog. Most lows will be in the mid 60s to lower 70s. Thursday will be warm and humid and the cold front will be approaching. Most of the energy with this front will pass to the north and that means heavier and stronger thunderstorms will likely be in New England.
The Storm Prediction Center has a marginal risk for severe weather in Southern and Southeastern New England for Thursday and that includes Central and Eastern Long Island. This means isolated severe thunderstorms are possible. Thunderstorm risks will be later in the afternoon and evening. Otherwise it will be warm and humid Thursday. Highs will be mostly in the low to mid 80s.
This cold front will move through later Thursday and and offshore Friday morning taking any thunderstorms to the east. Then we get into a low humidity dry air mass that will spread over the east and it will be with us right through the weekend. Look for increasing amounts of sunshine Friday with highs in a range from about 78 to near 84 and dew points will drop into the 50s during the afternoon.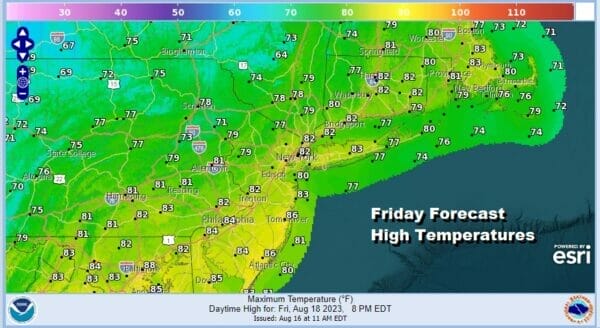 Saturday looks to be a beautiful day of sunshine and very low humidity along with pleasant temperatures. Highs will be in the upper 70s to lower 80s. Humidity levels will be very low with dew points in the 50s. The high pressure area will move offshore Saturday night and settle off the Middle Atlantic coast.
Temperatures and dew points will come up Sunday though the dew points will get to the upper 50s and lower 60s which is more humid but still reasonable. Temperatures Sunday afternoon with lots  of sunshine and a west wind will likely take highs to the middle and upper 80s.
Monday will be a hot and humid day with sunshine taking highs to the upper 80s and lower 90s at least. It appeared a few days ago that we could be headed into a heat wave next week. However we continue to see troughs dropping into the Eastern US and one has materialized for Monday night into Tuesday. Another cold front will move through Monday night with perhaps a shower or thunderstorm Monday night followed by some cooler and drier air for Tuesday into Wednesday of next week. Through the next 5 or 6 days, rainfall amounts will be low except for perhaps whatever thunderstorms we get later Thursday and Thursday night.
MANY THANKS TO TROPICAL TIDBITS FOR THE USE OF MAPS
Please note that with regards to any severe weather,  tropical storms, or hurricanes, should a storm be threatening, please consult your local National Weather Service office or your local government officials about what action you should be taking to protect life and property.
(Amazon is an affilate of Meteorologist Joe Cioffi & earns commissions on sales.)