COLD FRONT NEARS WITH MORE SHOWERS INTO THIS EVENING
WEATHER CONDITIONS IMPROVE WEDNESDAY & THURSDAY
RAW RAINY FRIDAY WEATHER DRY COLDER WEEKEND
Rain has been heavy at times today in some areas as a result of the stubborn warm front that took forever to move northward. This took the juice out of the atmosphere regarding a severe weather threat for most of the area. Now we see the cold front approaching and there are a couple of more bands of showers to deal with into this evening before weather conditions genuinely improve overnight.
EASTERN SATELLITE

The satellite loop shows clouds advancing eastward and drier air is now moving into Western Pennsylvania and West Virginia and pushing to the east. Regional radar is showing one more solid line of showers and downpours moving east across Eastern Pennsylvania and it should move offshore on schedule.
REGIONAL RADAR

LOCAL RADAR NEW YORK CITY
LOCAL RADAR PHILADELPHIA

Wednesday and Thursday look like two good days with sunshine. Highs Wednesday should reach the upper 50s and lower 60s. Cold high pressure builds to the north on Thursday and though we will see plenty of sunshine temperatures will be in the cooler low to mid 50s as we set up for a raw and rainy Friday.
Today's cold front stalls across the Gulf States and another low comes from there with a primary low heading into the Ohio Valley and a secondary low develops on a warm front along the Virginia coast. The outcome from this is a cold rain and a raw northeast wind Friday into early Saturday morning. Temperatures Friday will only be in the 40s at best. Weather conditions will improve over the weekend and some of the cold air to the west is going to funnel in to our area Saturday and Sunday though the coldest air moves more south than east. Nonetheless temperatures this weekend will be below average especially on Sunday with highs just in the 40s.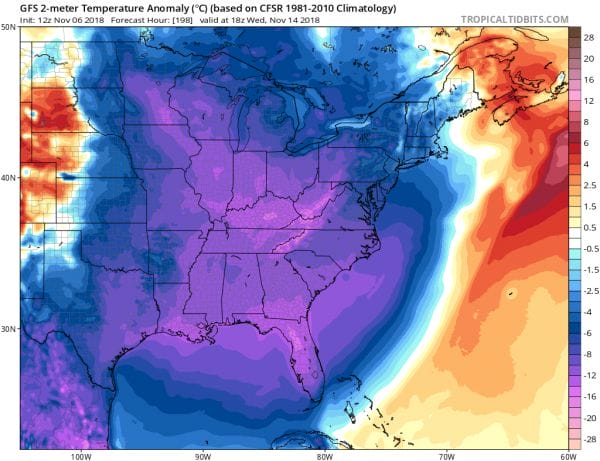 We are still on course for very cold air for this time of year at least to head into the Eastern US next week though how it gets here is the big question. We will address this in a JOESTRADAMUS post later today. For Patreon members you get to see it now.
SUBSCRIBE TO PATREON FOR A WEATHER EXPERIENCE FREE OF ADS, EXCLUSIVE VIDEOS FOR MEMBERS ONLY AND MUCH MORE…STARTS AT $2 A MONTH..MESSAGE ME AT ANY TIME

MANY THANKS TO

TROPICAL TIDBITS

FOR THE USE OF MAPS
Please note that with regards to any tropical storms or hurricanes, should a storm be threatening, please consult your local National Weather Service office or your local government officials about what action you should be taking to protect life and property.
LATEST JOESTRADAMUS ON THE LONG RANGE