Cold Front Approaches Today Lower Humidity Into At Least Midweek

Yesterday's storm system that washed out the day for most of us is long gone now and in its wake we are left behind in a cooler scheme of things today. We will see some sunshine today but there is also an approaching cold front that might trigger off a shower or thunderstorm this afternoon or evening. The atmosphere won't be that unstable so the severe weather risk is limited today to a small area in Eastern Pennsylvania and westernmost New Jersey.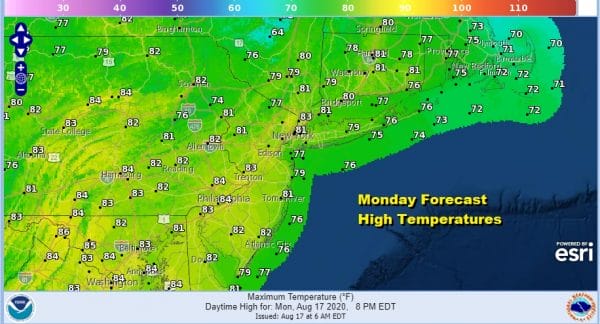 Also the cooler air that was left behind yesterday's low will put a cap on temperatures today as highs will reach the upper 70s and lower 80s in most places. Dew points today will be in the low to mid 60s but higher from South Jersey southward. This front will take care of this and behind it we will see a nice dry air mass coming into the Northeast and Northern Mid Atlantic States.
SATELLITE

REGIONAL RADAR

Radars aren't showing much at the moment with some scattered showers and thunderstorms in Central Pennsylvania northward into Western NY. That  marks the approaching front. Local radars should remain quiet into this afternoon.
LOCAL RADAR NEW YORK CITY
LOCAL RADAR PHILADELPHIA

Once the front passes skies should clear out tonight with lows mostly in the upper 50s to mid 60s. Tuesday we have high pressure building in. Watch the high on the GFS loop of Tuesday through Friday as it cradles the Northeast and Northern Mid Atlantic states while a frontal boundary lying east-west across the Carolinas holds in place with no sign of any developing wave.
This should keep it dry Tuesday through Friday. We should see at least some sunshine each day. Most highs Tuesday will be 80 to 85 and Wednesday and Thursday highs will be in the upper 70s and lower 80s. Humidity levels will drop and it will be rather pleasant and reasonable with the lowest humidity arriving on Wednesday. Enjoy the week.
MANY THANKS TO TROPICAL TIDBITS FOR THE USE OF MAPS
Please note that with regards to any severe weather,  tropical storms, or hurricanes, should a storm be threatening, please consult your local National Weather Service office or your local government officials about what action you should be taking to protect life and property.