Cold Front Approaches Rain Severe Weather Risk Later Wednesday Into Thursday

Weather in 5/Joe & Joe Weather Show Latest Podcast
Cold Front Approaches Rain Severe Weather Risk Later Wednesday Into Thursday
We are going to squeeze out one more nice day but the atmosphere is already beginning the process of priming it self for some rain. We have a very slow moving cold front cross the Midwest today but it is going to take another day and half before the front reaches the coast late Thursday. Holding it up is a ridge off the coast and the weak circulation of Tropical Storm Peter which is no threat here but it is creating a bit of a bottleneck in the normal west to east motion of weather systems. Clouds are pushing only very slowly into Eastern Pennsylvania leaving areas to the east from there to Southern New England and Long Island enjoying a good deal of sunshine. Highs this afternoon will be in the 70s thanks to a flow off the ocean.
SATELLITE

WEATHER RADAR

As the humidity climbs tonight we will see some low clouds develop with lows mostly in the upper 50s to mid 60s. Then as the flow turns southeast and south on Wednesday and the front inches closer, look for cloudy to partly sunny conditions. The further east you are the better the day but rain will arrive in Eastern Pennsylvania later in the day but hold off until later Wednesday night into Thursday for areas to the east. Wednesday highs will be in the 70s.
Tropical Storm Peter's weak circulation is on the lower right while a strong high holds east of Nova Scotia. The low in the Ohio Valley tracks northward into the Eastern Great Lakes and this creates a cold front with a relatively narrow line of showers and thunderstorms for Thursday. The Storm Prediction Center is indicating a marginal risk for severe weather. Thursday highs will be in the 70s to some lower 80s inland.
Rainfall amounts will be heaviest to the west where a couple of inches of rain is forecast across Pennsylvania but the amounts diminish rather noticeably as you head east. This is due to the fact the front is actually weakening a bit as it heads east as most of the support for the cold front heads north rather than east.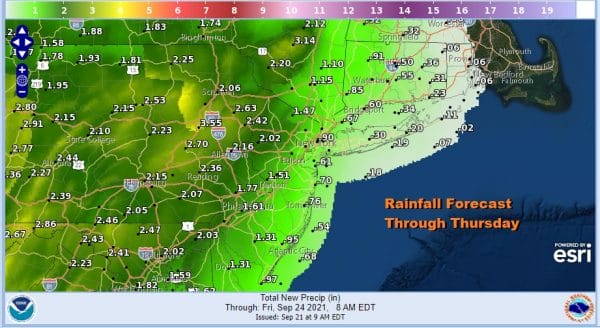 Amounts of 2 inches or more are possible from westernmost New Jersey westward and will need to evaluate flash flood risks in the next 2 days but to the east of there amounts fall to an inch or less over Southern New England and Long Island.
Depending on the timing here the front should move far enough east on Friday to allow for improving weather conditions from west to east though the front does get hung up a bit along the coast. Let's call Friday decreasing clouds and increasing sun from west to east though areas east of NYC might see that progress late in the day. Areas to the west of NYC and Philadelphia will see earlier improvement. Highs Friday will be in the upper 60s and lower 70s. Humidity levels will take a large drop Friday and last through what should should be a decent weekend. We are looking at no worse than partly sunny skies both weekend days with highs in a range of 70 to 75 with 60s for highs in areas inland north and west of the coast and away from major urban areas.

Please note that with regards to any severe weather,  tropical storms, or hurricanes, should a storm be threatening, please consult your local National Weather Service office or your local government officials about what action you should be taking to protect life and property.