Cold Air Overwhelms Eastern US
COLD AIR OVERWHELMS EASTERN US
LESSENING SNOW CHANCES NEXT WEEK
Over the last few weeks we have seen weather models showing cold air spreading into the Eastern US only to have it be vastly overdone. Models keep jumping around in volatile fashion. Once again we seem to be seeing a bit of a flip as weather models were holding back on cold air to some degree and setting up overrunning events for later this week. Now we have another flip which showed up last night on the GFS model.
What appears to be happening is that the upper flow in the northern part of the get is stronger on the GFS model that was forecast days ago. This does two things. It allows cold air to basically spread out and drive further south. It also leaves energy in the flow weak with no real room to do anything. This is one of those times that you want a little southeastern ridge to pop up and it suddenly decides not the be there! The European model does leave a little more room for a light coastal event Thursday night with a more definable trough coming into the east. However this is along the lines of a cheap thrill coating to an inch if it happens at all.
Then of course there is the Canadian model which still leaves the door wide open for something a bit more substantial but it is hard to rely on a model that has been right maybe twice since the Crimean War.
You can see the surface result on the Canadian with the matching upper air. It could happen only if that upper trough stretches back and sharpens up a bit as it drops southeastward and rotates around. I would question how much room there is for that to happen. The Canadian still has the double wave idea but it really is hard to take seriously. The European seems to be the compromise solution between the Canadian and the relatively bone dry GFS.
Longer term today's model runs don't seem to hold out much hope for anything of consequence in the next week or 10 days. Maybe this is a good thing since we know when it prints out snowstorms in the long range they never happen. Perhaps this may wind up being a winter where we have to wait and wait for the once chance. While I don't believe that is the case, it is certainly getting harder with each passing day to draw much confidence going forward.
MANY THANKS TO TROPICAL TIDBITS FOR THE WONDERFUL USE OF THE MAPS
SNOW REMOVAL COMPANIES FOR YOUR WINTER NEEDS
             LONG ISLAND                                ROCKLAND COUNTY                   Connecticut
     ROCKLAND COUNTY                         TRI STATE SNOW REMOVAL                           JOHNSTOWN PA
FiOS1 News Weather Forecast For Long Island
FiOS1 News Weather Forecast For New Jersey
FiOS1 News Weather Forecast For Hudson Valley
NATIONAL WEATHER SERVICE SNOW FORECASTS
LATEST JOESTRADAMUS ON THE LONG RANGE
Weather App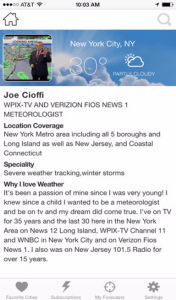 Don't be without Meteorologist Joe Cioffi's weather app. It is really a meteorologist app because you get my forecasts and my analysis and not some automated computer generated forecast based on the GFS model. This is why your app forecast changes every 6 hours. It is model driven with no human input at all. It gives you an icon, a temperature and no insight whatsoever.
It is a complete weather app to suit your forecast needs. All the weather information you need is right on your phone. Android or I-phone, use it to keep track of all the latest weather information and forecasts. This weather app is also free of advertising so you don't have to worry about security issues with your device. An accurate forecast and no worries that your device is being compromised.
Use it in conjunction with my website and my facebook and twitter and you have complete weather coverage of all the latest weather and the long range outlook. The website has been redone and upgraded. Its easy to use and everything is archived so you can see how well Joe does or doesn't do when it comes to forecasts and outlooks.
Just click on the google play button or the apple store button on the sidebar for my app which is on My Weather Concierge. Download the app for free. Subscribe to my forecasts on an ad free environment for just 99 cents a month.
Get my forecasts in the palm of your hand for less than the cost of a cup of Joe!