Cold Air Hanging Tough This Evening Winter Weather Advisories Continue
If you watched the developments early this afternoon that "stick" of snow that moved through actually through a bit of a complication to our weather for the rest of the way. There were some convective swirls in the mix as evident on the radar loops earlier today. Whatever it was it was enough to put down a coating to an inch and knock temperatures down by a few degrees. Judging from the surface map those temperatures have yet to recover.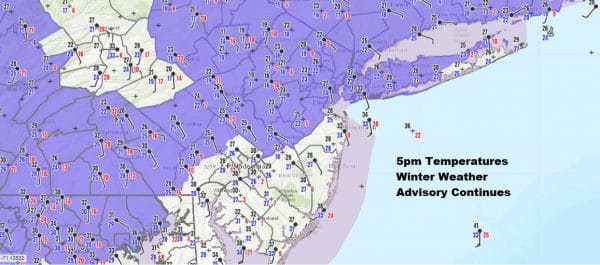 Here we are at 5pm in the evening and at this point we should have expected temperatures (at least according to the Nam) go above freezing in NYC and Long Island with the 40 degree line not that far away. It isn't even close this evening as we see many areas still in the 20s with the exception being parts of South Coastal New Jersey.
SATELLITE

REGIONAL RADAR

A few odd things are happening on the regional and local radars including convection in Eastern Maryland to the Delmarva Peninsula which could be the beginnings of a secondary low. We are also seeing the local radars blossoming out right now in response.
LOCAL RADAR NEW YORK CITY
LOCAL RADAR PHILADELPHIA

Snow should pick up in intensity going into this evening. The latest HRRR model has picked up on the colder atmosphere and it actually keeps the precipitation mostly snow and sleet and only changes it to rain at the very end from Long Island and NYC east.
The combination of temperatures holding below freezing and snow with occasional bursts of moderate or even heavy snow means we should hit the accumulation numbers in the forecast. Also from Central New Jersey into Southwest Jersey and Southeast PA we are getting some freezing rain right now and that is another issue in areas where the upper levels are warming but the lower levels aren't. Weather conditions should improve slowly later this evening once all this comes to an end (between 8 and 11pm). Sunday will be a better day with clouds and some sun, a gusty wind and highs in the 30s to near 40 but dropping down to the teens to near 20 by Monday morning. Monday will be cold with some sunshine. Highs will be in the upper 20s and lower 30s.
MANY THANKS TO TROPICAL TIDBITS FOR THE USE OF MAPS
Please note that with regards to any severe weather,  tropical storms, or hurricanes, should a storm be threatening, please consult your local National Weather Service office or your local government officials about what action you should be taking to protect life and property.