Cold Abates Snow Looms Brutal Arctic Blast Follows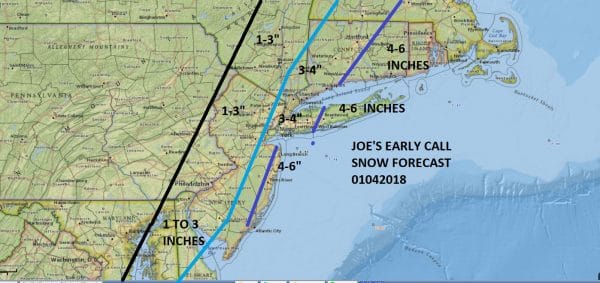 Cold Abates Snow Looms Brutal Arctic Blast Follows
We are finally seeing the coldest of the cold air abate with Arctic air mass number 2 and that should allow temperatures to bounce to 20 to 25 this afternoon which believe it or not will feel rather relieving as long as it doesn't come with too much wind. At least we will have plenty of sunshine though there are some clouds out to the west on the satellite. You can also begin to see the energy that is the going to become a major Atlantic storm which develops off the Florida coast and the runs up the coast Wednesday night and Thursday. At least there are no issues though Wednesday as we will see sunshine and arriving clouds Wednesday with highs in the upper 20s to near 30.
SATELLITE LOOP

REGIONAL RADAR

SNOW FORECAST FOR THURSDAY
This snow forecast is very tough because of the storm track being offshore and the strength of the storm which is forecast to get rather intense as it goes by. I am going to start with a bit of an aggressive call for coastal areas of New Jersey and Long Island of at least 4 to 6 inches with amounts lower as you go west. The western edge is where the bust factor may be higher due to what will be the very tight nature of the back edge of the snow and the boundary of 4 inches. I made the 1-3 inch zone rather wide with the idea that the western edge of 3 to 4 may need to be pulled back sharply westward along with the western boundary of 4 to 6 inches. I also think there is a fair chance that amounts could go higher along the immediate coast. Snow arrives later Wednesday night into Thursday morning and comes in from southeast to northwest and then ends late in the Thursday into Thursday evening. Winds will become strong and gusty along the coast and could be every bit of 25 to 35 mph which will be blowing all this around.
Once the storm ends bitter cold air quickly follows and we will see lows in the single digits to near 10 Friday morning and highs only between 10 & 15 degrees,. Saturday morning lows will be near or below zero everywhere as will lows Sunday morning. Highs over the weekend will be just in the teens. Wind chills Friday and Saturday will be well below zero. This is the coldest of the Arctic air masses. The good news is that after Sunday we will moderate in a big way for early next week. We will speak to that later today.

GET JOE A CIGAR IF YOU LIKE 
FiOS1 News Weather Forecast For Long Island
FiOS1 News Weather Forecast For New Jersey
FiOS1 News Weather Forecast For Hudson Valley
LATEST JOESTRADAMUS ON THE LONG RANGE