Coastal Storm Spends One More Day Nearby Before Exiting Better Weather Ahead
This is the 5th day in a row of gloom and doom. The satellite and radar loops this morning show the counterclockwise rotation of our coastal storm which is still sitting off the Delaware coast. This storm has basically rotating in a circle of about 40-50 miles for the last 4 days. However as we go through the day we will being to see this system start to slide to the east. This is because a cold front now in the Western Great Lakes is finally beginning to make its move to the east.
SATELLITE

WEATHER RADAR

Overnight another band of heavy rain and some thunderstorms moved in from off the ocean and there were even a few thunderstorms in the mix. Most of that rain is over Southern New England, the Hudson Valley to the Catskills and into Northeast Pennsylvania. This area will gradually diminish as we go through the day. When and where it is not raining, it is cloudy and temperatures once again will be holding in the 50s.
The low moves away to the east tonight so the rain disappears and we will see a slow decreasing in clouds later tonight into Thursday morning. Temperatures will probably not drop very much and hover in the upper 40s to mid 50s. Thursday dayside should be a nice day with lots of sunshine developing and highs will snap back into the 70s in many locations.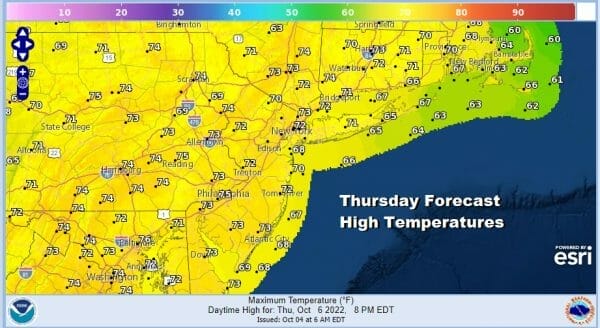 Once this storm pulls out, it is quite likely that we will not seen any rain not only for Thursday and Friday, but it could be dry over the weekend and through much of next week. Friday we have a cold front coming through but I don't expect much from that other than a few clouds and a windshift to the northwest when the front passes. There might be an isolated shower here and there. Otherwise Friday will be mainly sunny with just a few clouds in the afternoon. Highs will be again into the 70s.
Lows Saturday morning will be in the 40s as skies clear. The weekend we see no issues. Look for sunshine Saturday and Sunday with highs Saturday in the mid to upper 50s in most places. Then we head down to the 40s coast and urban areas and 30s inland for Sunday morning. Sunday look for plenty of sunshine with highs back into the 60s. Next week looks mostly dry. The only cold front of importance will come Thursday when we could see the chance for showers. Otherwise it should be dry Monday through Wednesday with temperatures close to average or even a little bit above average come Wednesday and Thursday.
Please note that with regards to any severe weather,  tropical storms, or hurricanes, should a storm be threatening, please consult your local National Weather Service office or your local government officials about what action you should be taking to protect life and property.