Late Week Coastal Storm & Questions Regarding Snow
Late Week Coastal Storm & Questions Regarding Snow
ANOTHER STORM RUNS UP THE COAST THURSDAY FRIDAY. BIG HIGH, TROPICAL STORM, ALL KEY
No doubt by now the buzz is growing regarding another coastal storm this week behind the one that is coming for Monday night into Tuesday. The first event is a non issue regarding frozen precipitation as it will just be too warm except way up in upstate NY & Northern New England. As with all the weather systems recently, each one is followed by a shot of cold air and each shot has gotten progressively more important.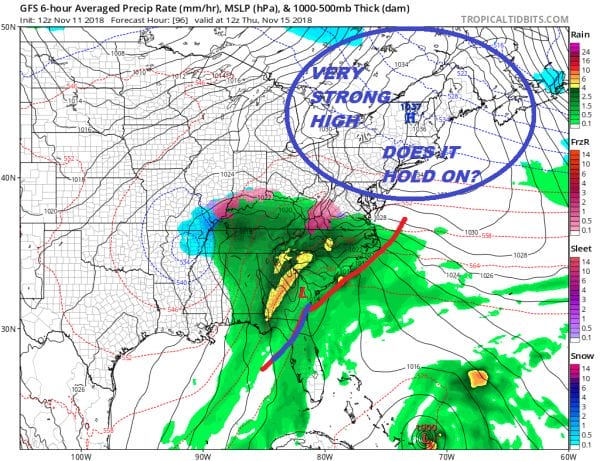 There are a number of critical issues here with the very strong high in New England probably the most important factor. Models are trying to decide whether that high holds on in New England keeping cold air in place at least for awhile or does it slowly move out to the east and allow warm air to penetrate further north over time. Model puzzle pieces are many. It is not just the high here but a mid November tropical storm could play into the mix here.
The big storm in the North Atlantic is holding things in check here as is the upper high in the South Atlantic. The tropical storm (if it develops) could impact the strength of the upper high to the East. Then of course you have the upper low in the Tennessee Valley which is the driver for the coastal storm. It is quite a complex mess here. A month from now and this would probably be a significant snow threat just inland of the coast. For this time of year it would have to be perfect and it would have to be just cold enough for precip to fall as snow or sleet. At this stage it is clearly way too early but this would certainly be an elevation driven event if ti winds up being cold enough for wet snow or sleet.  We are just going to have to monitor how the models handle all these chess pieces which include an unusual mid November possible Tropical Storm.
MORE WEATHER EXCLUSIVE POSTS, LIVE STREAMS AND MORE ON MY PLATFORM ON PATREON!
SHOP THE JOESTRADAMUS STORE
MANY THANKS TO TROPICAL TIDBITS FOR THE WONDERFUL USE OF THE MAPS
FiOS1 News Weather Forecast For Long Island
FiOS1 News Weather Forecast For New Jersey
FiOS1 News Weather Forecast For Hudson Valley
NATIONAL WEATHER SERVICE SNOW FORECASTS
LATEST JOESTRADAMUS ON THE LONG RANGE