Coastal Storm Mostly Rain But Winter Storm Warnings New England

Weather in 5/Joe & Joe Weather Show Latest Podcast
Coastal Storm Mostly Rain But Winter Storm Warnings New England
Our Friday night into Saturday storm is underway as clouds are covering Southern New England southwest into low pressure coming out of the Gulf States and heading for the Virginia coast tonight into Saturday morning. This is going to be a mostly rain event for the coast from Southern New England southward but to the north we have snow issues.
Winter Storm Warnings are posted from Northeast Connecticut into Maine. High Wind and Storm Warnings for the coastal waters are up for Southeast Massachusetts to Block Island. Gale Warnings are up for the Long Island and New Jersey coastal waters. The heaviest rain from this will be along the coast on the order of 1 to 2 inches.
While it is possible that some snow and sleet could mix in toward the end of this on Saturday in coastal Southern New England down to NYC and Long Island, it won't be much of anything. To the north however we will see that area tap the rapid intensification of the storm and the drawing down of cold air aloft. This will produce snows for Northern Connecticut and points north and east.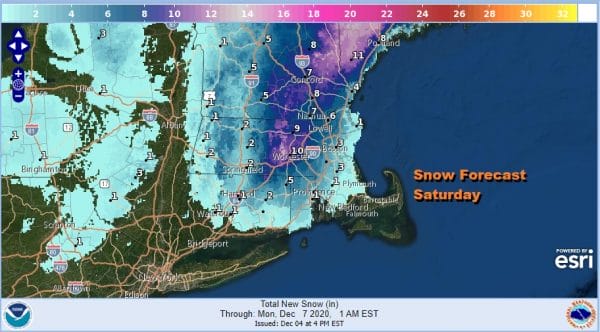 The heaviest snow will fall from Northeastern Connecticut northeastward into Maine. Areas in Northern New England could certainly see a foot or more of snow while the southern and coastal areas will receive far less.
SATELLITE

REGIONAL RADAR

Rain is blossoming on the radars this evening coming up from the southwest. We are seeing heavier rain in Virginia and West Virginia and that will make it to the coast overnight into Saturday morning.
LOCAL RADAR NEW YORK CITY
LOCAL RADAR PHILADELPHIA

During Saturday the coastal storm intensifies and draws cold air southward. The rain changes over to snow midday and early afternoon over New England. The low intensifies too late to create a significant change over to points south. The rain will end in Eastern Pennsylvania in the morning and the rain shuts off from west to east as the day progresses but the rain could last well into the afternoon on Long Island and the Southern New England coast.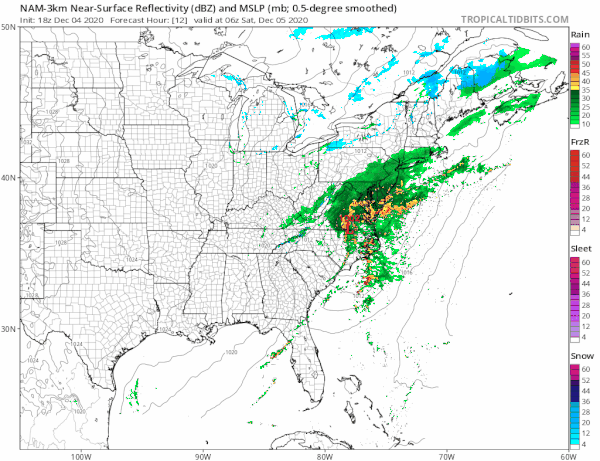 Winds will become strong and gusty along the coast later Saturday especially once the low goes by. Sunday will be a better day with some sunshine but it will be breezy and cold. Highs will be just in the upper 30s and lower 40s. Another low comes out of the Gulf States and heads to the Carolinas Monday.
This time around there won't be room for this storm to move northward and it should stay to the south and east of us. It might bring some snow to North Carolina and Southern Virginia but here it will just bring high clouds. It will stay cold into Wednesday this coming week before temperatures moderate and we should go the entire week without any significant precipitation.
MANY THANKS TO TROPICAL TIDBITS FOR THE USE OF MAPS
Please note that with regards to any severe weather,  tropical storms, or hurricanes, should a storm be threatening, please consult your local National Weather Service office or your local government officials about what action you should be taking to protect life and property.