COASTAL STORM LOOKS A BIT NASTIER ON OVERNIGHT MODELS
GALES, COASTAL FLOODING RAIN ON COURSE FRIDAY NIGHT SATURDAY
WEATHER CONDITIONS TO IMPROVE SUNDAY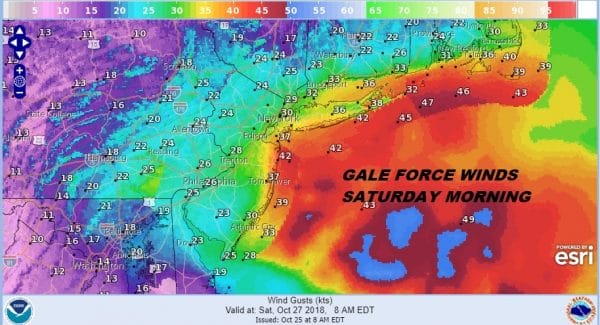 Overnight weather models trended a bit nastier regarding the coastal storm for Friday night and Saturday. it isn't so much about the low to the south than the high to the north which is stronger and more stubborn to get out of the way. This makes for a tighter pressure gradient Friday night and Saturday with gales and coastal flooding.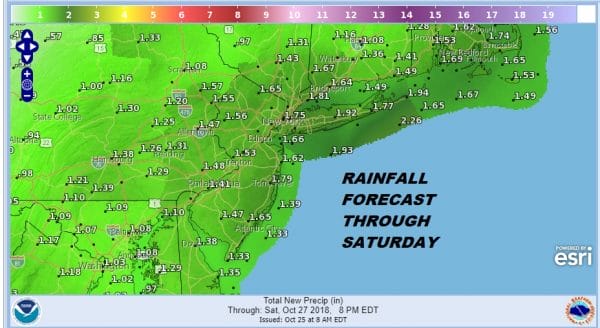 I still the early Saturday morning high tides produce the greatest risk for moderate coastal flooding. Winds will likely gust to 40-50 mph along the immediate coast. Rain still like it is in the range of 1 to 2 inches with some locally higher amounts possible.
EASTERN SATELLITE

Of course none of this happens today as we have sunshine forecast all day long with nothing more than a few passing clouds. Temperatures today won't make it much above the upper 40s and lower 50s. Nothing is on the radar this morning and nothing won't be on the radar into Friday morning.
REGIONAL RADAR

We will see clear skies tonight with lows in the 30s and 20s in the cold spots Friday morning. Friday will start with some sun but clouds will be rolling in and increasing as we watch the system in the Gulf States make the turn up the East Coast. Temperatures Friday won't get much out of the 40s as clouds thicken. We see rain developing after sunset Friday night from south to north and it should be raining everywhere by midnight. This leads to a nasty overnight into the first part of Saturday.
As far as the rest of Saturday goes we will likely see the rain begin to taper off from south to north as the day wears on. Winds will also being to slowly subside during the day Saturday as low moves northward and the pressure gradient slowly relaxes. Look for temperatures to hold in the 40s.
Sunday should see some improvement as the low moves away to the northeast but we have another system dropping southeast into the Ohio Valley on Sunday and that threatens us with another round of rain here later Monday and Monday night. Sunday should see clouds give way to some brightening of skies and even a few breaks of sun are possible with temperatures in the 50s. Monday we cloud up with rain developing by afternoon and lasting into Monday night with highs again in the 50s. We will get a handle on that system once we get through the Friday night Saturday coastal storm.
SUBSCRIBE TO PATREON FOR A WEATHER EXPERIENCE FREE OF ADS, EXCLUSIVE VIDEOS FOR MEMBERS ONLY AND MUCH MORE…STARTS AT $2 A MONTH..MESSAGE ME AT ANY TIME

MANY THANKS TO

TROPICAL TIDBITS

FOR THE USE OF MAPS
Please note that with regards to any tropical storms or hurricanes, should a storm be threatening, please consult your local National Weather Service office or your local government officials about what action you should be taking to protect life and property.
LATEST JOESTRADAMUS ON THE LONG RANGE