Coastal Flooding, Strong Winds & Heavy Rains Friday Night & Saturday
Coastal flooding could be a problem Friday night and Saturday with this developing noreaster that will be impacting the area. Overnight model runs of the GFS are pretty much holding to the same idea with a primary low that heads to the Great Lakes with a secondary coastal storm that forms in the Carolinas and deepens rapidly as it moves northeast. In a setup such as this normally there would be a snow issue for much of the northeast but there has been an ongoing problem in that there is an absolute lack of real cold air. Nothing in tonight's run suggests any change in this idea. The cold air mass that has moved in for today and Thursday is pulling out to the east on Friday. There is no new supply of arctic air to replace it until after this noreaster goes by.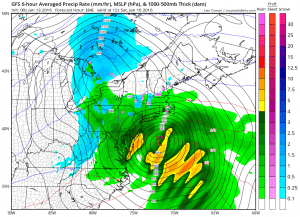 This storm does get fairly deep in intensity and there will be a good strong fetch of northeast winds. Notice that inland there is a struggle for snow even in the northern areas where it should be all snow as a given. But such is the winter of 2015-2016
COASTAL FLOODING AT HIGH TIDE
Fortunately we are not at full moon was that occurs next week but tides will still be running at least 2 or 3 feet above normal and that should cause minor to moderate coastal flooding during the high tide cycles Frday night and Saturday. The gfs model gives about a half inch to an inch of rain and what precludes this from being a bigger issue is that the storm is moving along. There is also no big high to the north to create a long east or northeast fetch. Still some coastal flooding from this seems likely for Long Island and especially for New Jersey as the winds will be piling water on an already Sandy compromised shoreline.
We will examine the European to see whether it shows a colder look for inland areas as that could argue for a chance to snow before ending in some places. 
NATIONAL WEATHER SERVICE SNOW FORECASTS
LATEST JOESTRADAMUS ON THE LONG RANGE
Weather App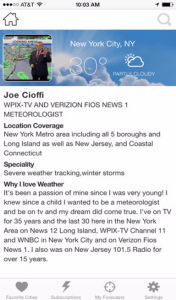 Winter is here! Don't be without Meteorologist Joe Cioffi's weather app. It is a complete weather app to suit your forecast needs. All the weather information you need is right on your phone. Android or I-phone, use it to keep track of all the latest weather information and forecasts. This weather app is also free of advertising so you don't have to worry about security issues with your device. An accurate forecast and no worries that your device is being compromised.
Use it in conjunction with my website and my facebook and twitterand you have complete weather coverage of all the latest weather and the long range outlook. The website has been redone and upgraded. Its easy to use and everything is archived so you can see how well Joe does or doesn't do when it comes to forecasts and outlooks.
Just click on the google play button or the apple store button on the sidebar for my app which is onMy Weather Concierge. Download the app for free. Subscribe to my forecasts on an ad free environment for just 99 cents a month.
Get my forecasts in the palm of your hand for less than the cost of a cup of Joe!