COASTAL FLOOD WATCH NEW JERSEY, LONG ISLAND, SOUTHERN WESTCHESTER COASTAL CONNECTICUT
NOREASTER CONDITIONS FRIDAY NIGHT & SATURDAY
WEATHER IMPROVES SUNDAY
The National Weather Service has issued a Coastal Flood Watch for all of New Jersey Long Island and Southern Westchester County & Coastal Connecticut bordering Long Island Sound. Minor to Moderate coastal flooding is expected at high tides during Saturday. Weather models have continued to trend slightly nastier than yesterday so the watch goes up. The full moon yesterday is creating higher than normal tides and add to that a strong northeast flow off the Atlantic and you have the ingredients for coastal flooding.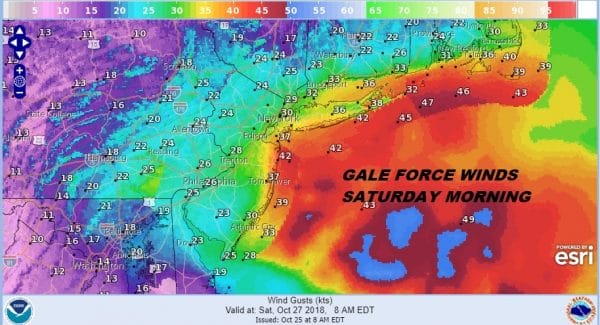 Winds will be sustained 20 to 35 mph along the coast and gusts of 40-50 mph are likely right along the coast while inland gusts will be in the 20 to 30 mph range. Winds will also gust 30-40 mph just inland of the New Jersey coast as well. There are no weather issues for this evening and tonight as the satellite loop show much of the area in clear skies and it should remain clear through the night. HIgh clouds from the low in the Gulf States are spreading into Virginia and North Carolina but they have not made a northward advance for the time being.
EASTERN SATELLITE

REGIONAL RADAR

We will have a cold night a head with most lows in the low to mid 30s with 20s in cold spots. Some frost is possible by morning and only the warmer urban areas will likely stay above freezing overnight.
Friday clouds will increase with highs in the upper 40s to lower 50s. Rain will arrive during Friday evening from south to north. There is no change in the arrival time between 7pm & 11pm. Then its rain and wind into Saturday afternoon before the rains shift northward. 1 to 2 inches of rain will be common with some locally higher amounts possible.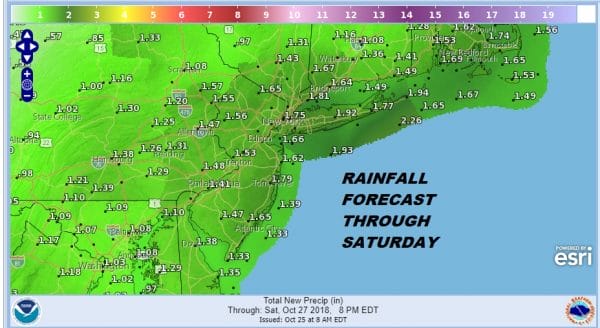 Sunday still looks better with clouds and some brightening of skies and breaks of sunshine with highs back in the 50s to near 60. Monday brings the next weather system as low pressure from the Great Lakes moves southeast and redevelops in our back yard. This means some rain or showers Monday but it does not appear to be a big deal. Weather systems will be coming along on a regular basis so we could see more showers next Thursday and more rain next weekend. We will cover that all later today in a long range JOESTRADAMUS post.
SUBSCRIBE TO PATREON FOR A WEATHER EXPERIENCE FREE OF ADS, EXCLUSIVE VIDEOS FOR MEMBERS ONLY AND MUCH MORE…STARTS AT $2 A MONTH..MESSAGE ME AT ANY TIME

MANY THANKS TO

TROPICAL TIDBITS

FOR THE USE OF MAPS
Please note that with regards to any tropical storms or hurricanes, should a storm be threatening, please consult your local National Weather Service office or your local government officials about what action you should be taking to protect life and property.
LATEST JOESTRADAMUS ON THE LONG RANGE