Coastal Flood Watch New Jersey Long Island Wind Advisory Eastern Half of Long Island
Coastal Flood Advisory For Tonight's High Tides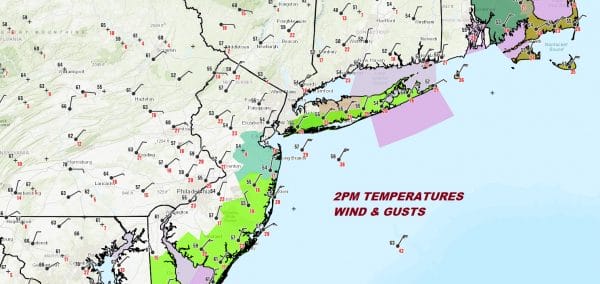 We are seeing our coastal storm gathering some strength this afternoon with the low center still well offshore. Clouds have swept back into Eastern Pennsylvania. Rain has been sweeping westward from the ocean with the heaviest rain east of NYC and more showery rains to the west. The low center is coming to a grinding halt in its northward movement and it now will begin a long counter clockwise loop and hook back westward. This will bring more rain westward tonight into Thursday. As the low moves closer to the coast tonight and Thursday, winds will increase to gale force. So far winds along the coast have been gusting to 30 mph or so. Tonight the winds will strengthen along the New Jersey shore and over Long Island and points east. Winds along the New Jersey shore will gust over 40 mph at times overnight and over Long Island and points east 40 to 50 mph gusts are possible especially over the Suffolk County where a wind advisory is posted for inland areas. Gale and Storm warnings are posted for the coastal waters. In addition we have high tide coastal flooding issues. This evening's high tide will bring widespread minor coastal flooding and a coastal flood advisory is in effect for the south shore of Long Island and coastal New Jersey. A coastal flood watch is in effect for Thursday into Friday for these areas with moderate coastal flooding forecast.
SATELLITE

REGIONAL RADAR

Watching the radars the rain is fairly solid from NYC eastward and is heavy in Eastern Long Island and in Connecticut and points east. West and north of NYC the rain tapers off rather quickly and only some scattered bands of light rain are showing up at the moment.
LOCAL RADAR NEW YORK CITY
LOCAL RADAR PHILADELPHIA

Tonight into Thursday with the coastal storm doing its loop a surge of rain will back westward Thursday morning and reach into New Jersey. The rain will be windswept especially east of NYC with those gusts of 40 to 50 mph. What prevents this from being a very serious situation regarding coastal flooding and widespread wind and rain is that the storm is not moving toward the coast or onshore but staying just far enough out to prevent a major push of the tide into the shoreline.
Total rainfall amounts could be in the 2 to 3 inches or more range east of NYC across Long Island and Connecticut and an inch or less west and south of NYC with little rain reaching the Pennsylvania NJ border. Temperatures through all of this will remain in the 50s though we could see low 60s well inland where the rain doesn't make it. On Friday the low will be past peak intensity and beginning its southeast leg of its clockwise loop. Rains should pull away to just some scattered showers under cloudy skies. The winds will still be rather gusty along the coast with temperature in the 50s coast and low 60s inland. We should finally see the storm move away to the northeast Saturday with very slow improvement of weather conditions over the weekend. Saturday still looks rather cloudy but we should see some sun on Sunday. Saturday highs will be back into the 60s. Sunday we should see temperatures make a run for the upper 60s and lower 70s.
MANY THANKS TO

TROPICAL TIDBITS

FOR THE USE OF MAPS
Please note that with regards to any severe weather,  tropical storms, or hurricanes, should a storm be threatening, please consult your local National Weather Service office or your local government officials about what action you should be taking to protect life and property.
SUPPORT THE FREE APP. SHOP AMAZON, JUST USE THE SEARCH BAR AND BUY WHAT YOU WANT!