Coastal Flood Advisory New Jersey Long Island
LATEST VIDEO ON TROPICAL STORM MATTHEW
Coastal Flood Advisory New Jersey Long Island
We have a Coastal Flood Advisory up for New Jersey today as well as for Western Long Island. Low pressure to the south and a strong high to the north are creating a tight pressure gradient here. The result is a rather strong northeast wind with a long ocean fetch. Combine that with the second new moon of the month of September and you have conditions for minor coastal flooding up and down the New Jersey Shore as well as the western shores of Long Island back to New York Harbor. Only minor coastal flooding is expected a high tide.
...COASTAL FLOOD ADVISORY REMAINS IN EFFECT UNTIL 11 PM EDT THIS
EVENING...

* LOCATION...COASTAL NEW JERSEY AND DELAWARE AND THE LOWER
  DELAWARE BAY.

* COASTAL FLOODING...MINOR COASTAL FLOODING IS POSSIBLE WITH
  BOTH THE HIGH TIDE THIS MORNING AND THE HIGH TIDE THIS
  EVENING. TIDAL FLOODING MAY APPROACH MODERATE WITH THE HIGH
  TIDE THIS EVENING. NOTE THAT THERE IS ALSO A RISK OF FLOODING
  DUE TO HEAVY RAIN THROUGH OUT THE DAY.

* TIMING...THE COASTAL FLOODING IS EXPECTED WITH THE HIGH TIDES
  WHICH WILL OCCUR BETWEEN 7 AND 9 AM AND 7 AND 9 PM ON THE
  OCEAN FRONT. HIGH TIDE ON THE DELAWARE BAY AND BACK BAYS MAY
  OCCUR UP TO TWO HOURS LATER.

* SURGE...TIDES WILL BE UP TO 2 FEET ABOVE ASTRONOMICAL TIDES.
  HOWEVER...HEAVY RAIN AT THE TIME OF HIGH TIDES COULD
  EXACERBATE COASTAL FLOODING...LEADING TO TOTAL WATER LEVELS
  EVEN HIGHER.

* WAVES...ON THE DELAWARE BAY...WAVES UP TO 5 FEET WILL BE
  POSSIBLE.

* IMPACTS...ROADWAY FLOODING IS EXPECTED NEAR BOTH HIGH TIDES.

PRECAUTIONARY/PREPAREDNESS ACTIONS...

A COASTAL FLOOD ADVISORY MEANS THAT MINOR TIDAL FLOODING IS
EXPECTED. MINOR TIDAL FLOODING OFTEN RESULTS IN SOME ROAD
CLOSURES. USUALLY...THE MOST VULNERABLE ROADWAYS WILL FLOOD.

DO NOT LEAVE YOUR VEHICLE AT A LOCATION THAT IS PRONE TO TIDAL
FLOODING. DO NOT DRIVE YOUR VEHICLE THROUGH FLOOD WATERS. THE
WATER MAY BE DEEPER THAN YOU THINK IT IS. YOU WILL BE PUTTING
YOURSELF IN DANGER AND YOUR VEHICLE MAY BE DAMAGED...LEADING TO
COSTLY REPAIRS.

FOR A LIST OF THE IMPACT OF DIFFERENT TIDE HEIGHTS IN YOUR COUNTY
PLEASE GO TO WWW.WEATHER.GOV/PHI/TIDES

&&


As far as rain is concerned there has been a fair amount of rain over the western half of New Jersey overnight with just some spotty light rain or drizzle elsewhere. More waves of rain are coming up from the south but they are moving northward and seem to be arcing north northwestward so western areas of New Jersey will continue to see rain which much less in the east.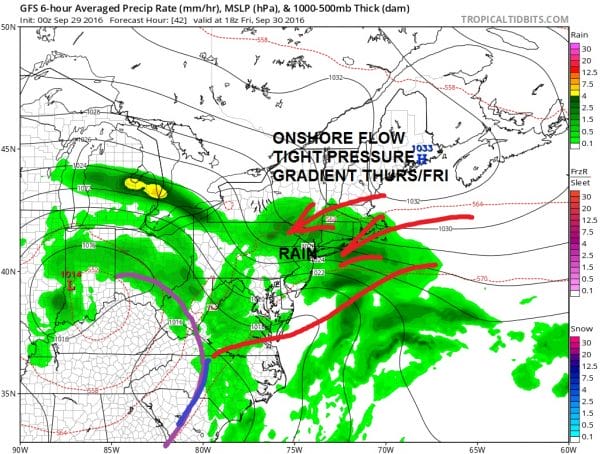 A second wave of rain will arrive on Friday and this will encompass all areas from New Jersey to Southern New England including the coast. Another surge of rain is likely over the weekend. No genuine weather improvement is likely until late Sunday or possibly not until Monday.
MORE ON THE COASTAL FLOOD ADVISORY FOR LONG ISLAND
WINTER WEATHER OUTLOOK VIDEOS
In case you missed them I've been previewing the upcoming winter in a series of posts and videos. Here are the first 2. More will be coming along. Links to the latest posts are below.
NEW JERSEY
LONG ISLAND AND NEARBY
WINTER 2016-2017 PART 3 NEW JERSEY
WINTER 2016-2017 PART 1 OCEAN WATER TEMPERATURES
WINTER 2016-2017 PART 2 ARCTIC SEA ICE AND SIBERIAN SNOW COVER
FiOS1 News Weather Forecast For Long Island
FiOS1 News Weather Forecast For New Jersey
FiOS1 News Weather Forecast For Hudson Valley
LATEST JOESTRADAMUS ON THE LONG RANGE
Weather App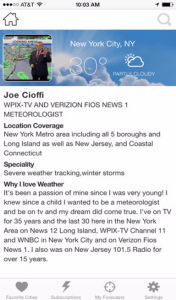 Don't be without Meteorologist Joe Cioffi's weather app. It is really a meteorologist app because you get my forecasts and my analysis and not some automated computer generated forecast based on the GFS model. This is why your app forecast changes every 6 hours. It is model driven with no human input at all. It gives you an icon, a temperature and no insight whatsoever.
It is a complete weather app to suit your forecast needs. All the weather information you need is right on your phone. Android or I-phone, use it to keep track of all the latest weather information and forecasts. This weather app is also free of advertising so you don't have to worry about security issues with your device. An accurate forecast and no worries that your device is being compromised.
Use it in conjunction with my website and my facebook and twitter and you have complete weather coverage of all the latest weather and the long range outlook. The website has been redone and upgraded. Its easy to use and everything is archived so you can see how well Joe does or doesn't do when it comes to forecasts and outlooks.
Just click on the google play button or the apple store button on the sidebar for my app which is on My Weather Concierge. Download the app for free. Subscribe to my forecasts on an ad free environment for just 99 cents a month.
Get my forecasts in the palm of your hand for less than the cost of a cup of Joe!
MENTION JOE CIOFFI AND GET A 5% DISCOUNT