Clouds Showers Today Warmer Thursday Windy Warm Friday Showers Sunday

Weather in 5/Joe & Joe Weather Show Latest Podcast
Clouds Showers Today Warmer Thursday Windy Warm Friday Showers Sunday
We are in a bit of a different place today regarding the onshore flow. Clouds are everywhere today and we also have low pressure in the Great Lakes with a long trailing arm of clouds and showers that arc from the Lakes southeast into the Eastern US. Add to that a weak low off North Carolina will be absorbed by this frontal boundary. The result will be some showers later today into tonight.
SATELLITE

We are starting to see showers on the regional radars moving northeastward. This will not produce a lot of rain. Most rainfall amounts today and tonight will be on the order to a quarter to at most a half inch with some isolated spots as much as three quarters of an inch.
Thanks to lots of clouds today and the wind off the ocean most highs will be in the 50s to near 60. Temperatures tonight won't adventure far as we settle in the 40s to near 50. Thursday we will see winds turn southwest shutting off the onshore flow and we will also see some sunshine. That should take highs into the 70s away from the ocean.
Another front approaches Thursday night into Friday morning but most of the energy with this passes to our north. There could be a few showers Thursday night as the front passes but it won't amount to much. Then it is on to Friday where low pressure to the north creates a strong gusty west southwest wind. Winds will gust to over 35 mph at times. We will also see sunshine developing and and warm highs in the 70s. In fact we could some areas in Southern New Jersey and Southeast Pennsylvania reach the mid to upper 70s.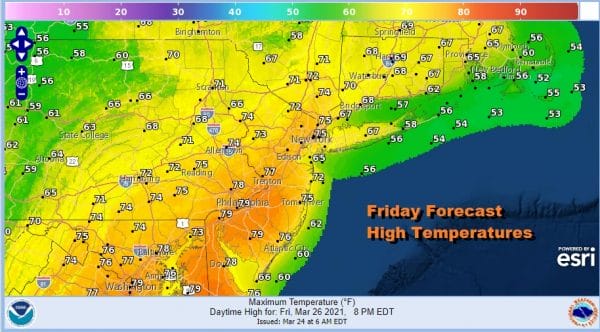 The weekend brings sunshine on Saturday and it will be the better of the two weekend days. Highs will be back in the 60s. Then the next cold front and low pressure will develop to our west and south and that will bring in the likelihood for showers on Sunday.
This system will strengthen as it moves east and that will set us up for windy conditions developing late Sunday night through Monday. We could see borderline wind advisory criteria here with gusts over 40 mph likely. Sunday's highs will be in the upper 50s and lower 60s. Monday temperatures will be just in the 50s.

Please note that with regards to any severe weather,  tropical storms, or hurricanes, should a storm be threatening, please consult your local National Weather Service office or your local government officials about what action you should be taking to protect life and property.