Clouds Showers Around Today
Week Ahead Looks Raw Wet Tuesday Through Thursday

Clouds Showers Around Today
Week Ahead Looks Raw Wet Tuesday Through Thursday

With the exception of Monday and next Sunday, it appears that we will be dealing with rain risk for the much of the time over the next 7 days. We are seeing it today as a weak low moves across Upstate NY and Pennsylvania and then exits offshore this afternoon. We can see clouds on the satellite but it is not a solid overcast. There are some breaks between bands of moisture. The radar is showing some showers over New Jersey and Pennsylvania. Those showers will play through today. There is also colder air in the Catskills and Poconos so some elevated areas could see a little snow out of this. Temperatures today will be mostly in the upper 40s and lower 50s.
SATELLITE

WEATHER RADAR

This low will be moving out tonight as skies clear out. Lows will be in the mid to upper 30s. Monday will be the one dry day for the work week. Low pressure coming out of the Great Lakes will be falling apart as it moves east so that should leave us in some sunshine. Highs will be in the mid to upper 50s.
Spring is known for the onshore flow in the Northeast and we have a bit of a blocky pattern in the North Atlantic. That will force low pressure coming out of the Southern Plains to pass across the Middle Atlantic states and offshore. Clouds will increase Tuesday along with a developing ocean wind. Some rain is likely to develop during Tuesday afternoon and then become steadier Tuesday night into Wednesday morning. The low will be offshore at that point and we could see a gusty northeast wind develop at the coast. Tuesday's highs will be in the 50s but once the rain and the ocean wind develop we will see temperatures trend downward into the raw 40s Tuesday night into Wednesday morning.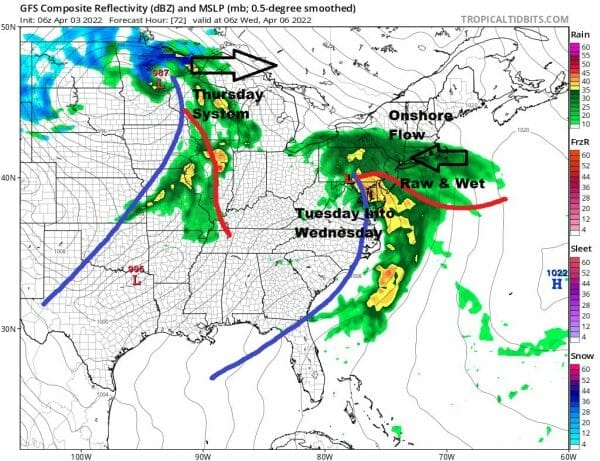 There is a kicker system behind our Tuesday night Wednesday morning low and that unfortunately will open up some Gulf of Mexico moisture. This will bring showers and possibly some thunderstorms Wednesday night into Thursday. Highs will eventually find their way back into the 60s at least away from the ocean. By Friday we will be under a strong upper trough and that leaves us with the risk for showers into next weekend. It might not be until next Sunday when we have another dry day.
Please note that with regards to any severe weather,  tropical storms, or hurricanes, should a storm be threatening, please consult your local National Weather Service office or your local government officials about what action you should be taking to protect life and property.