Clouds Set To Return Wednesday Showers Thunderstorms Thursday
Some areas did better than others today when it came to sunshine but we managed a decent day for most of the area from Northeast Pennsylvania east across Central and Northern New Jersey to the Hudson Valley, Southern New England and Long Island. Highs reached into the 60s away from the coast. It was well deserved after two days of soup. Clouds are lining up to our south across the Middle Atlantic states as the next warm front begins to set up. We should start to see those clouds move northward late tonight or Wednesday morning. Otherwise it will be no worse than partially clear for most overnight with lows in the 40s.
SATELLITE

REGIONAL RADAR

Wednesday we will see clouds increase but other than a brief isolated shower it should be a dry rain free day. It will start to turn breezy later in the day as a south southeast wind develops. Highs will be in the upper 40s and lower 50s along the coast and mid 50s to near 60 inland. This is all thanks to a slow moving storm system that will be crawling eastward Wednesday and Thursday.
The area of showers and thunderstorms is rather narrow and we could very well spend much of Thursday with little rain and a gusty south southeast wind. The rain and thunderstorms will move in Thursday night and move out by Friday morning. Even though as the NAM shows the rain band is narrow, it is moving so slowly that it will be able to produce an inch or two of rain as it goes by.
Thursday's temperatures should push up into the 60s just about everywhere. The front moves offshore Friday morning and takes its sweet time moving east. Look leftover clouds with some breaks of sun but there still could be a passing shower Friday afternoon. Highs will be 60 to 65 in most places.
My thinking on the weekend remains the same as earlier. We could catch a break and keep it dry Saturday and dry for the daytime Sunday before the next low and cold front arrive Sunday night into Monday with some showers and thunderstorms. If this plays out highs Saturday will be in the 60s. Sunday's highs could reach into the low and mid 70s.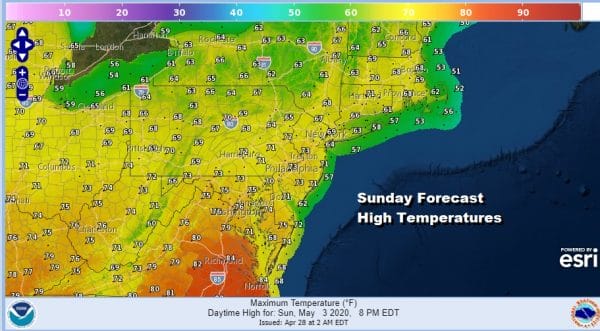 it looks like we could see some showers and thunderstorms Sunday night but that system should pass through fast and weather conditions will improve for Monday and Tuesday of next week with some sun both days. Temperatures will run a little below average for the start of next week. Long range hints at a switch being flipped and a big warm up coming at mid month but for now they are just hints.
MANY THANKS TO TROPICAL TIDBITS FOR THE USE OF MAPS
Please note that with regards to any severe weather,  tropical storms, or hurricanes, should a storm be threatening, please consult your local National Weather Service office or your local government officials about what action you should be taking to protect life and property.