Clouds Few Showers Friday Rain Saturday Night Into Sunday
We managed a nice day from start to finish with sunshine which was welcomed after days of clouds. Now comes the next in a series of fast moving weather systems and we are already seeing some clouds from this moving across Pennsylvania and upstate NY. Showers are coming into range on the western side of the regional radar. None of this is reaching us tonight so just look for increasing clouds. Cloud cover and a developing southwest wind will keep temperatures mostly in the upper 30s to mid 40s overnight.
SATELLITE

REGIONAL RADAR

Friday brings the chance for a few showers from mid morning to mid afternoon as this cold front passes through. Highs will reach into the 50s. This is not going to be a big deal as far as rain amounts go. They will come in and in a few hours they will exit. Then we clear out briefly Friday night and turn a little colder before we cloud over again on Saturday. Highs Saturday will be in the low to mid 40s.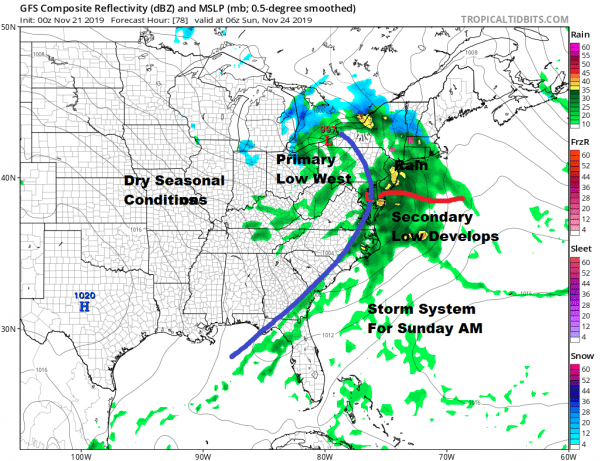 This is due to the front stalling out with a wave of low pressure moving from the Lower Mississippi Valley to West Virginia. A secondary low develops near Chesapeake Bay and heads northeast from there. Rain develops from west to east Saturday evening and lasts into Sunday morning before ending from west to east. Weather conditions may actually improve Sunday afternoon with temperatures in the 40s.
I don't see any important changes in the forecast today for next week. Monday and Tuesday look good with sunshine and highs reaching into the 50s. Wednesday brings a cold front with the chance for some scattered showers but it seems models are less and less impressed with this system as we draw closer. We will leave the chance for showers in the for Wednesday with highs in the mid to upper 50s.

Thanksgiving day is looking good and so is the Friday big shopping day with some sunshine both days. Highs will be in the upper 40s and lower 50s as high pressure builds in. Longer range we will watch November end and December begin and starts with a bit of a pattern rearrangement. This could bring some winter time weather into the Northeast and Middle Atlantic states in the longer term. We discussed that fully on our weather platform on Patreon.
MANY THANKS TO TROPICAL TIDBITS FOR THE USE OF MAPS
Please note that with regards to any severe weather,  tropical storms, or hurricanes, should a storm be threatening, please consult your local National Weather Service office or your local government officials about what action you should be taking to protect life and property.