Clouds Around Today Showers Thunderstorms Severe Weather Risks
Warm Week Ahead

Clouds Around Today Showers Thunderstorms Severe Weather Risks
Warm Week Ahead

This is not going to be a picture perfect weekend but it isn't a complete washout by any means. We are seeing a weakening upper air disturbance moving through today with clouds and there are some scattered showers showing up on the regional radar but much of that is there is light and in many cases it isn't even reaching the ground. In between we have changeable sky conditions with cloudy skies at times and some sun breaking through the clouds at other times. The best chances for the sun part will likely be northeast of NYC. As far as temperatures go, we will be in the 70s all day as clouds keep temperatures down.
SATELLITE

WEATHER RADAR

A warm front will form tonight somewhere south of NYC and that will keep us in clouds all night. Temperatures will likely be in the 60s. On Sunday the warm front will start to slowly inch northward as a cold front swings in the from the northwest and we have a shortwave trough in the upper atmosphere that will be part of this equation. There could be a scattered shower or thunderstorm chance into the afternoon but they will become more numerous in the late afternoon and evening.
North and east of the warm front we will see highs in the low to mid 70s while to the south and west of the front (Central, Southern New Jersey, Southern Pennsylvania and points south) highs will be in the upper 70s and lower 80s. This is the area that has the best chance for seeing severe weather Sunday with the rest of the area showing the chance for general thunderstorms late in the day and into Sunday night.
This is going to be a humid air mass especially south of the warm front and in the severe weather risk zone with dew points in the spongy mid to upper 60s. This could be a situation where a severe thunderstorm could spin up a tornado and a 2 percent tornado risk is being indicated. This lies inside a marginal risk zone for severe weather as forecast by the Storm Prediction Center.
The HRRR model I think has the best representation of what happens Sunday as we see those scattered showers earlier and the main area late in the day. Once the front moves on through we should get into improving weather conditions by Monday morning.
Monday is going to be warm day and we have a warm week ahead for the most part. It won't be hit as temperatures each day will be mostly in the low to mid 80s.  Monday we will see a mix of sun and clouds developing. Monday night into Tuesday morning we have a rather interesting situation developing. A small short wave is going to move from the Lower Lakes to New Jersey with a small concentrated area of thunderstorms with it. This is going to be a cluster that has a long shelf life and will travel a long distance.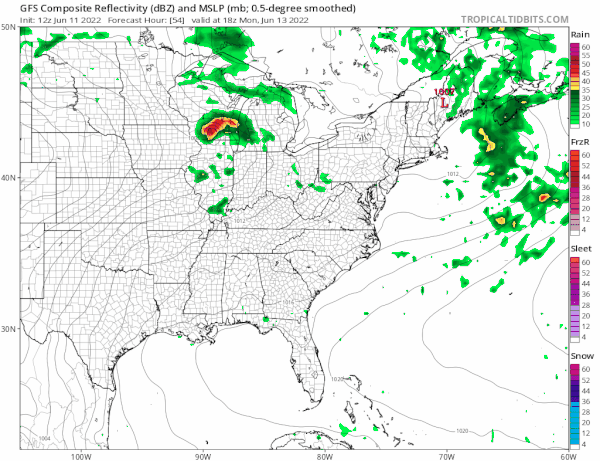 This is a small powerhouse system in the upper air and I'm thinking this has derecho possibilities here. A derecho (pronounced similar to "deh-REY-cho" in English, or pronounced phonetically as " ") is a widespread, long-lived wind storm. Derechos are associated with bands of rapidly moving showers or thunderstorms variously known as bow echoes, squall lines, or quasi-linear convective systems. This will come through Tuesday morning. Eastern Pennsylvania and New Jersey right now seem to be in line for this but we will need to see how models handle this in the short range when we get to Monday. Otherwise once that is done we go to clouds and sun with highs into the 80s. The rest of the week will feature a dry Wednesday, a chance for scattered showers and thunderstorms Thursday, and more numerous showers and thunderstorms late Friday with a strong cold front. A cool and probably dry pattern is setting up nicely for Father's Day weekend.
Please note that with regards to any severe weather,  tropical storms, or hurricanes, should a storm be threatening, please consult your local National Weather Service office or your local government officials about what action you should be taking to protect life and property.