Chris Rip Currents Increasing Next Few Days Long Island New Jersey
Chris Rip Currents Increasing Next Few Days
Long Island New Jersey
With Tropical Storm Chris likely to become a hurricane tonight or early Tuesday, the forecast track up the East Coast and offshore will mean no land impacts. However there will be impact to the beaches of Long Island and New Jersey with increasing waves and the likelihood of rip currents developing beginning on Tuesday and peaking Wednesday and Thursday. Couple these risks with summer sunshine forecast all this week means crowded beaches. Pay close attention to life guards regarding rip current risk and swim only where allowed and not in red flag areas.
WESTERN ATLANTIC TROPICAL SATELLITE

The satellite picture of Tropical Storm Chris this late this afternoon shows a well defined core and a storm that is getting better organized. An eye has appeared and Chris will likely become a hurricane shortly. Maximum winds are 70 mph at the moment. Chris is also stationary and will remain so into Tuesday before making a move to the northeast.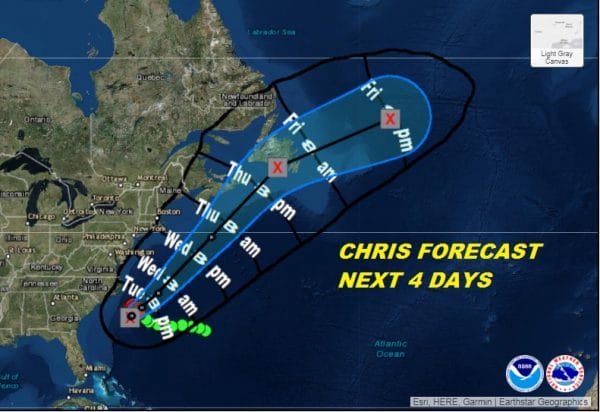 The map above is the forecast track of Chris which passes offshore but looks to make a close pass to the Canadian Maritime Provinces as a powerful extra tropical storm. This interactive tool is available on the National Hurricane Center website.
We should also state at this point that as we get deeper into the hurricane season, should a threat materialize, please go to the National Weather Service web sites and to your local forecast office which you can find at weather.gov. You can also use the National Hurricane Center at nhc.noaa.gov. Please consult your local government officials regarding questions you may have in order to make decisions to protect life and property.
FiOS1 News Weather Forecast For Long Island
FiOS1 News Weather Forecast For New Jersey
FiOS1 News Weather Forecast For Hudson Valley
LATEST JOESTRADAMUS ON THE LONG RANGE