Chilly Tuesday Leads To Warmer Dry Thanksgiving Day
Showers Then Colder Friday Weekend

Weather in 5/Joe & Joe Weather Show Latest Podcast
Chilly Tuesday Leads To Warmer Dry Thanksgiving Day
Showers Then Colder Friday Weekend
It is a day where we see what I often refer to as ineffective sunshine. The sun is out there but it doesn't seem to do anything as far as warming temperatures. We are going to top out mostly in the lower 40s. The core of this latest shot of cold air is overhead and will begin to slowly pull out to the east Wednesday. The satellite shows some clouds to the northwest and the radar is picking up on bands of snow showers from Western NY to Western Pennsylvania. Those snow showers will disappear later this evening as the lake effect machine shuts down.
SATELLITE

WEATHER RADAR

It is going to be a cold night of clear skies and winds will be dropping so that will take temperatures lower across the region. Everyone will be below freezing and most lows will be in the 20s and some of the colder spots inland will see lows in the upper teens.
Wednesday begins the bounce back higher though it will be a small bounce at first. We will see sunshine and that should take temperatures up to the middle and even a few upper 40s. The southwest flow will continue into Thursday. Thanksgiving day will be about as good as it gets for this time of year. We are looking at a sunny day. Highs will be in the low to middle 50s.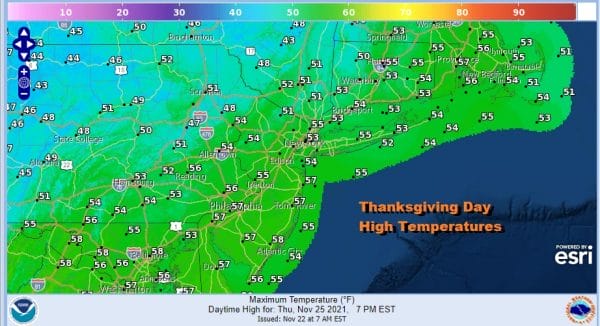 Thursday night brings the next approaching cold front. Our weather will mirror what happened Sunday night and Monday. Some showers will come in overnight and most of the showers will be done shortly after daybreak Friday. We will top out early temperature wise with leftover 50s in the morning and then temperatures ease in the after noon as skies start to clear from west to east.
This brings in another shot of cold dry air for the weekend. We are looking at a sunny and cold Saturday and a partly sunny and cold Sunday. A storm develops well offshore and pulls in a little more cold air for the start of next week. Other than the front Friday morning, no meaningful rain or snow is forecast into next week.

Please note that with regards to any severe weather,  tropical storms, or hurricanes, should a storm be threatening, please consult your local National Weather Service office or your local government officials about what action you should be taking to protect life and property.