Chilly Night Rain Tuesday Rain Late Week
Chilly Night Rain Tuesday Rain Late Week
Frost Advisory Dutchess Sullivan & Ulster Counties
We have another night of clear skies and light winds and this is setting us up for a very cool night. The seasons first frost advisories are up for the northern areas of the Lower Hudson Valley as temperatures will settle into the 30s. In fact we should see 30s even into the Northern & Western Counties of Northwest New Jersey & Northeast Pennsylvania. Also some 30s will occur in Connecticut mainly north of route 84. Frost Advisory is posted for Litchfield County.
CHILLY MONDAY MORNING FORECAST LOWS
Monday should be fine with sunshine giving way to arriving clouds. You can see the clouds from the next cold front swinging in from the midwest. Those clouds will thicken up Monday evening and a period of rain or showers will move in Monday night and last into the first part of Tuesday, gradually ending from west to east.

The weather gets complicated for the second half of the week as the front stalls out off shore and a strong upper air low dives from the Great Lakes to Virginia. This will cause a wave to develop on the front and push rain back in on Wednesday and it could continue on and off into Thursday. This upper air storm could be the first serious widespread rain we've seen since the spring and it may take days to get out of the way. If this is the case, the GFS model produces a generous amount of rain during this week.

The late afternoon GFS model is producing a wide area of 4 to 6 inch rains for the week ending next Sunday. If we want to be conservative and cut it in half it says 2 to 3 inches which I think is a fair estimate at this point. If the maximum amounts materialize this could put a serious dent in the severe drought.
The upper air storm will also be the key to what happens to the tropical storm that looks to develop this week in the Eastern Caribbean as it creates a weakness in the flow  to turn the storm northward across Cuba and into the Bahamas. We have more on this on our latest JOESTRADAMUS post.
WINTER WEATHER OUTLOOK VIDEOS
In case you missed them I've been previewing the upcoming winter in a series of posts and videos. Here are the first 2. More will be coming along. Links to the latest posts are below.
EASTERN PENNSYLVANIA
NEW JERSEY
LONG ISLAND AND NEARBY
WINTER 2016-2017 EASTERN PENNSYLVANIA
WINTER 2016-2017 PART 3 NEW JERSEY
WINTER 2016-2017 PART 1 OCEAN WATER TEMPERATURES
WINTER 2016-2017 PART 2 ARCTIC SEA ICE AND SIBERIAN SNOW COVER
FiOS1 News Weather Forecast For Long Island
FiOS1 News Weather Forecast For New Jersey
FiOS1 News Weather Forecast For Hudson Valley
LATEST JOESTRADAMUS ON THE LONG RANGE
Weather App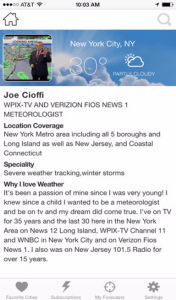 Don't be without Meteorologist Joe Cioffi's weather app. It is really a meteorologist app because you get my forecasts and my analysis and not some automated computer generated forecast based on the GFS model. This is why your app forecast changes every 6 hours. It is model driven with no human input at all. It gives you an icon, a temperature and no insight whatsoever.
It is a complete weather app to suit your forecast needs. All the weather information you need is right on your phone. Android or I-phone, use it to keep track of all the latest weather information and forecasts. This weather app is also free of advertising so you don't have to worry about security issues with your device. An accurate forecast and no worries that your device is being compromised.
Use it in conjunction with my website and my facebook and twitter and you have complete weather coverage of all the latest weather and the long range outlook. The website has been redone and upgraded. Its easy to use and everything is archived so you can see how well Joe does or doesn't do when it comes to forecasts and outlooks.
Just click on the google play button or the apple store button on the sidebar for my app which is on My Weather Concierge. Download the app for free. Subscribe to my forecasts on an ad free environment for just 99 cents a month.
Get my forecasts in the palm of your hand for less than the cost of a cup of Joe!
MENTION JOE CIOFFI AND GET A 5% DISCOUNT