Chilly Dry Colder Over The Weekend Next Week Door Opens For A Snow Chance

Weather in 5/Joe & Joe Weather Show Latest Podcast
Chilly Dry Colder Over The Weekend Next Week Door Opens For A Snow Chance
Chilly air covers us today and we still have a northwest flow around low pressure in Canada. This is going to produce some sunshine today but we will also see clouds develop as the day wears on. A weak upper trough is moving through today which will be responsible for the clouds but we don't expect any snow showers from this trough. Temperatures today will top out in the upper 30s and lower 40s.
SATELLITE

The satellite shows clouds to the west and the regional radars are picking up on some snow well to the northwest in upstate NY. Those echoes are moving  to the east southeast but we won't see any bands approaching us today.

Tonight will be mainly clear with lows in the mid 20s to lower 30s in most places. There will be enough of a breeze tonight to prevent inland areas from dropping to far but some lows could drop in the upper teens well inland. Friday brings an approaching cold front. Clouds will develop and we could see some snow showers scattered around later in the afternoon and again Friday night. Highs Friday will be in the upper 30s and lower 40s. Once the front passes we will turn colder and we are setting up for a cold weekend.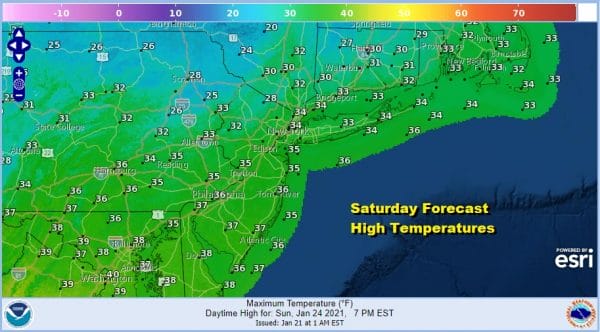 The weekend will be a cold one with sunshine both for Saturday and Sunday. Highs will be in the low to mid 30s in coastal areas but inland areas will not get out of the 20s. Then Saturday night we will see temperatures drop to the low 20s along the coast and in the warmer urban locations.
Sunday looks nice and sunny but cold with most highs in the 30s. Then attention turns to a storm system that will be coming out of the Plains and heading eastward. We are still struggling with a number of issues with this system. First and foremost is the block to the east and north which remains stubborn. It looks like it will be relaxing some next week but how much relaxing is the big question. I think the main issue here is that the block will remain strong enough to force a southern track for this system. That means that there will be a sharp cutoff on the northern flank. Where that cutoff line winds up is the big question.
A large surface high in Canada prevents the primary low from moving too far north so that forces redevelopment east of the Delmarva Peninsula. The block to the northeast keeps the low from moving northward. Will the cut off line be in the Hudson Valley or will it be somewhere further south? Models remain mixed but the pattern would favor areas to the south of NYC as having the best chances for accumulating snow from this.
The European model is furthest north which could account for why the Weather Prediction Center has the chance for at least 2 or 3 inches extending rather far to the north. Expect models to continue to move the ball around today and on Friday and we should have a good idea of what may happen next Monday night and Tuesday. For now we will call for a chance for snow in this time frame and see where the models take us today.
MANY THANKS TO TROPICAL TIDBITS FOR THE USE OF MAPS
Please note that with regards to any severe weather,  tropical storms, or hurricanes, should a storm be threatening, please consult your local National Weather Service office or your local government officials about what action you should be taking to protect life and property.