Chilly Days Cold Night Through Thursday Warmer Weekend

Weather in 5/Joe & Joe Weather Show Latest Podcast
Chilly Days Cold Night Through Thursday Warmer Weekend
We are looking at a chilly night ahead as we are still under the influence of low pressure in Northeastern Canada and another approaching cold front that will arrive on Tuesday. Skies are clear on the satellite from Central New England to the Middle Atlantic states. There are no radar echoes showing up on area radars so we are in good shape for tonight into Tuesday morning.  Lows by morning will be in the low to mid 30s as there will be enough of a wind to keep cold spots from dropping far.
SATELLITE

REGIONAL RADAR

Tuesday brings a mix of sun and clouds with more clouds in the afternoon. Our cold front won't be anything like Sunday's. It marks the leading edge of slightly colder air that will come in behind it. There is the outside chance for a rain or snow shower Tuesday with most highs just in the low to mid 40s.
Winds will still be on the gusty side Tuesday and that will continue Tuesday night into Wednesday. Clear skies will take temperatures down to the 20s to near 30 Wednesday morning. The daytime Wednesday will feature sunshine with a bit of a gusty wind at times. Highs will only be in the upper 30s and lower 40s.
Wednesday night will be the coldest night of the week and the coldest night of the Autumn season so far with clear skies. Winds will drop off and that will allow cold spots to radiate down to the teens and low 20s while warmer urban settings will be in the mid 20s to near 30.
High pressure moves to our south and winds will start to turn to the west. That should cause a temperature rebound Thursday afternoon. We will also have lots of sunshine. Highs will reach the upper 40s to lower 50s.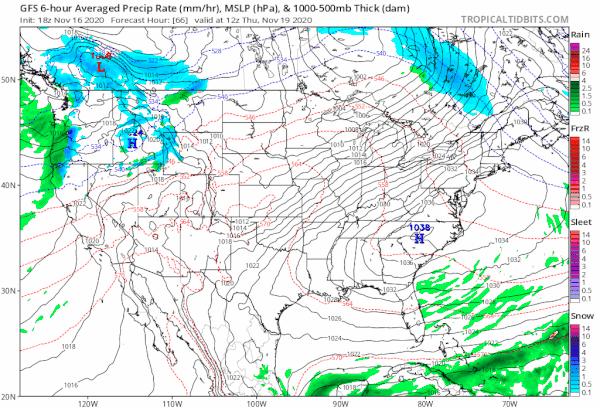 There are no issues Friday through Sunday other than some high clouds that might move through Friday ahead of warmer air for the weekend. We will call it partly sunny on Friday with highs in the 50s. Saturday and Sunday look dry and nice with sunshine. Highs will be at least back into the 60s and I wouldn't be surprised to see some 70 degree readings show up. As the GFS model shows no rain is in the forecast here until late Monday when the next cold front is due to arrive. There are no signs of any major storms on the horizon and no signs that our overall pattern which is cold shots that don't last and warm stretches that follow will continue into Thanksgiving week.
MANY THANKS TO TROPICAL TIDBITS FOR THE USE OF MAPS
Please note that with regards to any severe weather,  tropical storms, or hurricanes, should a storm be threatening, please consult your local National Weather Service office or your local government officials about what action you should be taking to protect life and property.