Chance of Snow Showers Late Today A Dry Cold Week Ahead

Weather in 5/Joe & Joe Weather Show Latest Podcast
Chance of Snow Showers Late Today A Dry Cold Week Ahead
Weak weather systems dominate the weather picture for the first part of this week. We have three of them with the first one approaching late today ahead of a weak cold front. Temperatures are starting from rather low levels this morning and with clouds already rolling in, it is hard to imagine temperatures getting much above the upper 20s to lower 30s. We can see the clouds are already overhead on the satellite picture. The radar is picking up some snow showers aloft scattered around locally while to the west in Pennsylvania is a more organized area of snow showers.
SATELLITE

WEATHER RADAR

These snow showers will be arriving later this afternoon in Eastern Pennsylvania and Western New Jersey and the it will be a matter of following them around the radar tonight as they shift to the coast. Weather models have differing views on who gets what and when so the forecast will indicate the chance for snow showers for everyone. Some of you get them and some of you won't. The HRRR loop below begins at 1pm today and goes through 7am Monday.
Some places could wind up with a coating of snow and it wouldn't shock me to if we wind up seeing some odd places picking up a half inch to an inch or so. The National Weather Service snow forecast pretty much sums it up though I would have probably including areas along the coast in the idea that someone winds up with a coating or a bit more but no matter.
Next we have another weather system approaching for late Monday into Monday night and this is more of a weak warm front than anything else. This will have an area of snow showers mostly in Northern Pennsylvania to the Hudson Valley and into Southern New England. It might extend south to Northern New Jersey NYC and Long Island. Ahead of this we will have clouds around Monday with highs just in the upper 20s to around 30 or so. Again we could see some areas get the ground whitened up or even a bit more while other areas see little or nothing.
Again we are using the HRRR loop here for Monday night 7pm until Tuesday 7am. Then we have a third system that pushes east on Tuesday and this is an arctic boundary as three is colder air behind it. Ahead of it Tuesday we will have a southwest wind and that should warm us up to the upper 30s and even a few places could stick their nose above 40 degrees. We are going to just for a chance of a rain or snow shower when the front goes by late Tuesday and leave it at that.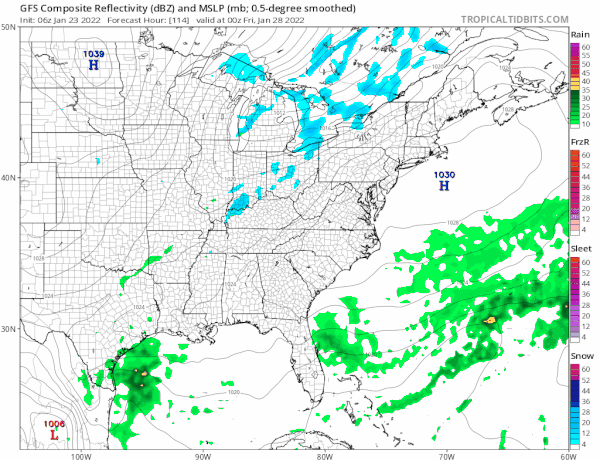 Very cold and dry air will take us from Wednesday through Friday with most highs in the 20s and Wednesday night will be a very cold night with lows in the single digits and lower teens. Our attention turns from weak disturbances to a stronger one later Friday into the weekend. Models continue to be struggling with how to handle this upper trough as it swings into the Eastern US. A series of storm systems recently have been moving off the Southeast coast and passing well to the southeast of our area with no impact. It would seem logical that this storm should follow the same route and overnight model runs suggest that this will indeed be the case. However there is room for the energy with this to be stronger and further west so we are not quite ready to state that this will pass offshore. Clarity here will not be achieved for another few days. So we will continue to watch models dance around the weekend with this system and continue to patiently watch the developments. It would seem that one thing that may be off the table is a storm running inland like we saw last weekend. Long long range, a pattern change is coming as the trough in the East pulls out and we go to a ridge in the East and the trough returns to the Western US. We will likely talk about that in the coming days.

Please note that with regards to any severe weather,  tropical storms, or hurricanes, should a storm be threatening, please consult your local National Weather Service office or your local government officials about what action you should be taking to protect life and property.