Calm Weather Stretch Coming To An End More Active Pattern Head
Some of you are starting the day with fog and mist while others are just dealing with some clouds. We should be able to see some breaks of sun in the mix today. We are dealing with a weak warm front cold front combination that will be playing through the Northeast today and tonight. There really isn't much with this system as the satellite doesn't exactly overwhelm the region with clouds and the regional radar is rather quiet this morning. Most highs today will be in the 40s. We still don't have any serious weather issues to deal with through Saturday.
SATELLITE

REGIONAL RADAR

Tonight you can look forward to some clouds and perhaps a few rain showers will be scattered about tomorrow morning as a weak cold front passes but again there is nothing serious here and most of you probably won't see much of anything weather wise. Most lows will be in the 30s. Friday starts with clouds but we should see some breaks of sun developing as the day wears on. Highs will reach the upper 40s and lower 50s.
The last weekend of December and the last weekend of 2019 will be a 50/50 split with Saturday being the better of the two weekend days. Look for sunshine Saturday with highs reaching the upper 40s and lower 50s. Low pressure will be heading for the Great Lakes as warmer air surges northward ahead of it. This brings rain as far north as the northern Great Lakes which isn't something that happens often in the winter months. We will cloud up Saturday night and Sunday with some showers developing Sunday afternoon. Sunday's highs will be in the 50s and I wouldn't be shocked if a few spots straddle 60 degrees in some places.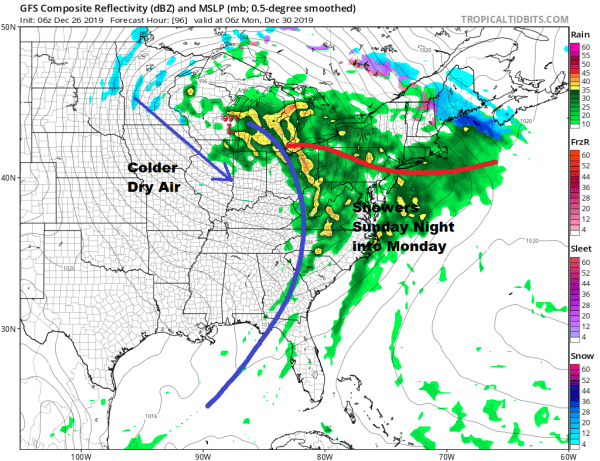 As low pressure makes its way through the Great Lakes we are looking at showers Sunday night into Monday morning before weather conditions improve. The pattern next week looks to be a colder one but it doesn't take us down to anything extreme but rather to seasonal conditions. The weather also looks mostly dry into New Year's Day with no major issues other than some gusty winds at times and the occasional snow shower that could pop up.
Longer range it seems like we are in this 2 to 3 weeks on week to 10 days off pattern where it gets busy during the 3 week period with weather systems coming along every three or four days and shots of cold air. Another active period is about to begin but it DOES NOT necessarily mean a snowier period. Cold air masses look to be more transient in nature as weather systems are more likely to move along rather than lock in for long periods of time. Then it becomes a matter of timing with cold air masses moving in and out and when precipitation comes, how much if any cold air will there be? Various long range model runs have been producing all sorts of fantasy storms over the last several days and thankfully the Christmas holiday kept focus on those systems to a minimum. We are resuming normal posting and video streams today and we will be getting into all of this now that Christmas has come and gone.
MANY THANKS TO TROPICAL TIDBITS FOR THE USE OF MAPS
Please note that with regards to any severe weather,  tropical storms, or hurricanes, should a storm be threatening, please consult your local National Weather Service office or your local government officials about what action you should be taking to protect life and property.