Blocking Pattern Continues Weather Remains Quiet
Blocking Pattern Continues Weather Remains Quiet
As we move now toward the end of November & the beginning of December we really don't see too much change in the overall weather pattern across North America. The blocking pattern has developed and weather models continue to show that while the strength of the block will vary it does remain a constant for the next 10 days to 2 weeks. However as we have pointed out repeatedly, the presence of a block does not necessarily mean any kind of storm activity nor does it mean extreme cold. Certainly by the standards of mid to late November temperatures on the whole have been running near or below average most of the time with the occasional mild day here and there. Also it isn't just the block that is important but also where all the troughs and ridges line up and their varying strengths and weaknesses. Right now based on what weather models are producing in the short and long range there seems to be little change in what we have been seeing. Weather conditions on the whole have been dry. Weather systems on the whole have been weak. Cold shots have been weak except for the record breaking one 2 weeks ago. Right now it seems this ebb and flow will continue for awhile longer.
Click the map above to set the European upper air maps in motion. Watch the area in the North Atlantic over Greenland and toward Northern Canada. You will see that models initially weaken the blocking high to the north but they also build it right back up again. This certainly argues for a continuing of more of the same. For weather conditions to become more active from the storm side of the equation the Pacific and West coast still keep seeing troughing in that region. This would need to change for storm activity in the East to increase and we see no signs of that changing through the next week and a half.
In the meantime there will be a couple of weak cold fronts coming through with a couple of weak shots of cooler air with a warm up sandwiched in between next Tuesday into Wednesday. Other than that the weather pattern remains rather calm. We do know that it won't last forever and it some point we will see the pattern morph into something more active. The fact that the blocking weakens and comes right back could be a sign that it might want to hang around for awhile in form form or another. We will have to wait to see if and when things begin to change in the west to allow weather systems to move toward the East Coast.
MANY THANKS TO TROPICAL TIDBITS FOR THE WONDERFUL USE OF THE MAPS
GET JOE A CIGAR IF YOU LIKE!
FiOS1 News Weather Forecast For Long Island
FiOS1 News Weather Forecast For New Jersey
FiOS1 News Weather Forecast For Hudson Valley
NATIONAL WEATHER SERVICE SNOW FORECASTS
LATEST JOESTRADAMUS ON THE LONG RANGE
Weather App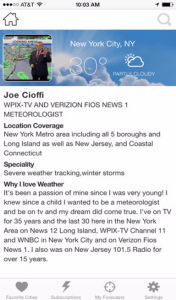 Don't be without Meteorologist Joe Cioffi's weather app. It is really a meteorologist app because you get my forecasts and my analysis and not some automated computer generated forecast based on the GFS model. This is why your app forecast changes every 6 hours. It is model driven with no human input at all. It gives you an icon, a temperature and no insight whatsoever.
It is a complete weather app to suit your forecast needs. All the weather information you need is right on your phone. Android or I-phone, use it to keep track of all the latest weather information and forecasts. This weather app is also free of advertising so you don't have to worry about security issues with your device. An accurate forecast and no worries that your device is being compromised.
Use it in conjunction with my website and my facebook and twitter and you have complete weather coverage of all the latest weather and the long range outlook. The website has been redone and upgraded. Its easy to use and everything is archived so you can see how well Joe does or doesn't do when it comes to forecasts and outlooks.
Just click on the google play button or the apple store button on the sidebar for my app which is on My Weather Concierge. Download the app for free. Subscribe to my forecasts on an ad free environment for just 99 cents a month.
Get my forecasts in the palm of your hand for less than the cost of a cup of Joe!