Block Breaking Down Faster Means Clouds Showers Return Faster

Block Breaking Down Faster Means Clouds Showers Return Faster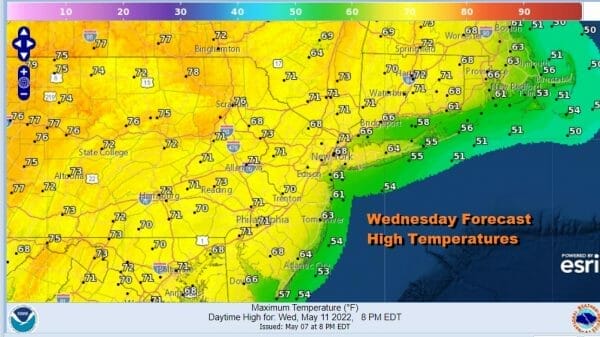 The coastal low remains tucked into the coast to an extent today and we can see that some clouds on the satellite have arched back westward to the immediate coast overnight. Just inland however we see clear skies and sunshine from Maine to Florida today and that spells another nice day. Like yesterday we should keep an eye on the satellite loop as the clouds seem to be rotating back westward at least for the time being. Temperatures this afternoon should reach into the 70s inland and remains mostly in the upper 50s and low 60s along east and south facing shorelines. Rain isn't showing up on the radar offshore which is a plus. We should also mention that inland areas north NYC like the Hudson Valley and into New England are very dry and there is fire risk there with low relative humidity.
SATELLITE

WEATHER RADAR

We are noticing that the block is breaking down a bit faster and while that would be a good thing normally, it does open up the door to weather systems coming in from the west. This means that we clouds and the risk for some passing showers come back a bit faster. We don't think that creates an issue for Thursday however we will see some clouds develop overnight and then skies should become mostly sunny. Highs will be in the upper 70s to some lower 80s as you go north of NYC and New Jersey while to the south it will be in the 70s and along the immediate coast it will be in the 60s.
Friday the high is well offshore to the southeast and our winds will go to southeast (oh joy). At this point the dry air mass becomes somewhat of a "dirty high" or one with what we could call less quality dry air. In fact the southeast isobars likely means clouds will be an issue Friday even inland. We could describe it changeable sky conditions. There might be some scattered passing showers or some drizzle. Highs will be into the 70s (60s coast) and again it will be warmer as you go north and cooler as you go south.
Models are showing these rain patches coming up at times over the weekend but I would think that most of the time it should be dry. Changeable sky conditions with some sun breaking through clouds at times should be the rule over the weekend. Temperatures will be mostly in the 70s and again warmer north cooler south. Models show a cold front approaching Monday and I am leaning toward the prospect of thunderstorms late in the day and the risk that ere could be some severe weather late Monday. The upper trough on the European looks more dynamic and the GFS model seems to be inching at that direction. We will just put it out there for now.
Please note that with regards to any severe weather,  tropical storms, or hurricanes, should a storm be threatening, please consult your local National Weather Service office or your local government officials about what action you should be taking to protect life and property.