DOWNLOAD MY NEW FREE JOESTRADAMUS WEATHER APP FOR ANDROID
BLACK FRIDAY RECORD COLD TEMPERATURES WARMER WEEKEND RAIN
SINGLE DIGITS & TEENS OVERNIGHT, UPPER 20S LOWER 30S FRIDAY
WARMER WEEKEND, 2 STORM SYSTEMS AHEAD
After a round of record low temperatures this morning in the teens, get ready for another round of record lows tonight and Friday morning. In fact some areas that did not set low temperature records for today might set them before midnight. Wind will still be up enough overnight so that we will see temperatures in a relatively tight range though some areas might see wind drop enough at the last minute to bring readings down to as low as 5 above by Friday morning.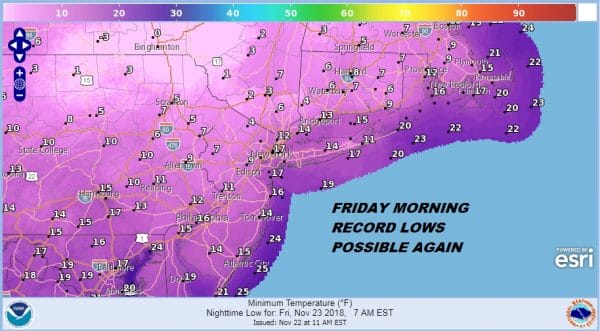 Friday we should see lots of sunshine all day long with a lot less wind and temperatures that will be headed into the upper 20s to lower 30s. The good news is that we will be warming up this weekend and warming up fast. This cold air mass pulls out in a hurry Friday night and Saturday. Look for nearly steady temperatures overnight and we will be back into the 40s Saturday.
EASTERN SATELLITE

REGIONAL RADAR

Nothing much is happening on the satellite or on the radars. In spite of all this cold air there are hardly any snow showers around in lake effect country and absolutely nothing to worry about precipitation wise into Saturday afternoon. It is hard to imagine that with all this cold air around that we warm up and rain. The cold air pulls out very quickly and the warm air comes in just as fast. Saturday we will cloud up and rain comes in during the afternoon and evening from west to east. Temperatures will be in the 40s and it will be rain everywhere. It won't be snow or sleet at the start even over inland areas.
The rain will move out by daybreak Sunday and we actually could see some breaks of sunshine developing in the afternoon. Temperatures will be in the 40s Saturday and we could reach the 50s to near 60 on Sunday! The next weather system will be shooting out of the Southern Plains. This brings more rain in for later Monday into Tuesday. Cold air will return to areas in upstate NY & interior New England Monday night and Tuesday for what could be a significant snowfall for those areas. This is rain affair for most of our area though colder temperatures arrive behind this system later next week.
SUBSCRIBE TO PATREON FOR A WEATHER EXPERIENCE FREE OF ADS, EXCLUSIVE VIDEOS FOR MEMBERS ONLY AND MUCH MORE…STARTS AT $2 A MONTH..MESSAGE ME AT ANY TIME

MANY THANKS TO

TROPICAL TIDBITS

FOR THE USE OF MAPS
Please note that with regards to any tropical storms or hurricanes, should a storm be threatening, please consult your local National Weather Service office or your local government officials about what action you should be taking to protect life and property.
LATEST JOESTRADAMUS ON THE LONG RANGE