Bitter Night Frozen Thaw Slightly Snow Thursday
Bitter Night Frozen Thaw Slightly Snow Thursday
It was another day of temperatures not out of the teens making this either the 5th or 6th day this short winter season so far that this has occurred. 1917 for New York City had 11 such days which is the record. We are likely to see a few more of these before this arctic weather pattern runs its course. Tonight will be another bitter cold night with clear skies and gusty winds this evening that will ease a bit overnight. Most lows again will be in the single digits and lower teens.
BITTER NIGHT FROZEN TUESDAY MORNING FORECAST LOWS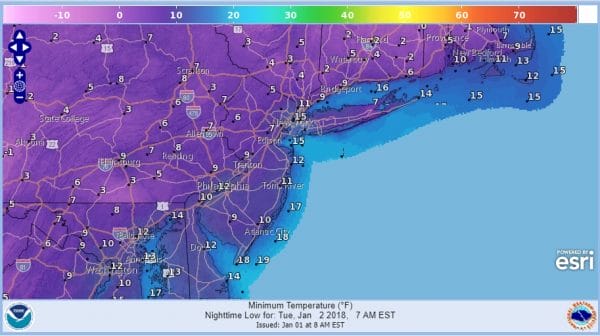 Some clouds are to our west and offshore but skies are clear in between so we should be dry overnight with minimal cloud cover.
SATELLITE LOOP

REGIONAL RADAR

We should moderate a bit Tuesday with highs back into the 20s with a fair amount of sunshine and Wednesday looks okay with sunshine giving way to arriving clouds and highs in the 25 to 30 degree range. We are setting up for the third arctic blast that will come in Thursday night and last through the weekend. A major Atlantic Ocean storm is going to develop and move up the coast just offshore. It looks to be close enough to produce some snow though how much remains a big question. The variables here look to me more than the usually are.
NAM MODEL 1PM THURSDAY JANUARY 4, 2018
Late afternoon model runs continue to trend westward overall but with a lot of differences in terms of placement and timing. Right now we think we will see some snow though how much remains a mystery until we can feel confident about the track. This certainly has the potential to produce a heavy snowfall but the western edge of the accumulating snow is a big question and also if the track is tucked in enough to the coast there could be mixing or even rain issues for parts of Eastern Long Island. We will continue to watch models evolve and we should come out with a snow forecast map early call sometime tonight.
This storm will usher in the coldest of the Arctic air masses beginning on Friday with temperatures only in the low to mid teens at best and we could drop below zero Saturday morning and again Sunday morning.