Bitter Cold Thursday Morning Snow Saturday Frigid New Year
Bitter Cold Thursday Morning Snow Saturday Frigid New Year
The morning begins in bitter cold fashion with temperatures in the single digits to low teens everywhere and there is still a wind which is making it feel like it is below zero out there. This will be the coldest day of this stretch of bitter air with sunshine but ineffective as highs will only reach the upper teens to some lower 20s. That runs every bit of 20 degrees or more below average for late December which is in the upper 30s to near 40.
SATELLITE LOOP

With the core of the cold air overhead today we will see just a few patchy clouds and not much more as the satellite loop shows a rather quiet cloud scene today. Lake effect snows in upstate NY have diminished but they will fire up once again over the weekend as the next shot of frigid air makes its way east.
REGIONAL RADAR

Get set for another cold night ahead with Friday morning lows once again in the single digits to low teens. Friday may see a few more clouds coming into the mix as weak disturbances in the strong flow move through, This probably makes for more clouds than sun and highs back into the 20s.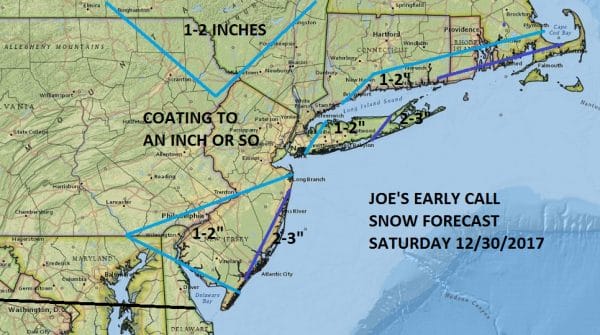 Saturday low pressure with a Great Lakes system will redevelop in our back yard and bring a coating to a couple of inches of snow. The best chance for a couple of inches will be right along the immediate New Jersey Shore and over Eastern Long Island. The map above is my snow forecast map I made yesterday and I've left it alone for the time being. This appears to be a minor event and while there could be a little upside, I think it may be limited. There may also be some downside because of the relative lack of moisture with this.  Either way another bitter cold shot of air follows.
New Years Eve will be windy and very cold with temperatures in the teens and then by Monday morning New Years day you can start 2018 off with temperatures in the single digits to below zero. I think the numbers shown above may wind up being a bit too high if we have a bit of snow cover on the ground. The bitter pattern continues through much of next week. Some models are pointing to a major snow possibility later next week but there has been a tendency for models to do this in the long range only to wind up with nothing because the arctic jet is so strong, there is no room for anything to happen. We as always with these things like to take them one at a time so we will deal with Saturday first and move on from there.

GET JOE A CIGAR IF YOU LIKE 
FiOS1 News Weather Forecast For Long Island
FiOS1 News Weather Forecast For New Jersey
FiOS1 News Weather Forecast For Hudson Valley
LATEST JOESTRADAMUS ON THE LONG RANGE