Better Weather Today Though Clouds Are Around Weekend Looking Warmer
We are finally seeing some improvement today across parts of the Northeast and Northern Mid Atlantic states however the improvement is not uniform and there will be cloud issues for some areas. A weakening disturbance coming out of the Great Lakes is moving southeastward with clouds and that will likely cut back on sunshine and hold temperatures down from Southern Pennsylvania and Southernmost New Jersey south and southwest. Meanwhile Northeastern New Jersey to Southwestern New England and Long Island as well as the Hudson Valley should see no worse than a mix of sun and clouds today. You can see how we are sitting with the storm system offshore to the east and the weaker disturbance to the west. Where you get sun today highs will reach the 60s. Where clouds prevail, temperatures will be in the 50s.
SATELLITE

With one system to the east and another to the west we can see the showers on the regional radar and the large space in between. We should be okay with no showers around though the last bands are rotating from the offshore storm and grazing Eastern Connecticut and Long Island this morning but that should disappear before too long.
REGIONAL RADAR

Weather systems continue to move along but at least tonight we should be clear at least for awhile. Clouds will return by morning as we start a southeast flow off the ocean ahead of the next warm front cold front combination. Most lows tonight will be in the 40s.
Attention turns west and south with this warm front cold front combination for Wednesday. Clouds return and we will see a strengthening onshore southeast flow. That will keep temperatures in the 50s along the coast with some 60s inland. While there is the outside chance for a passing shower, we will have to wait until Thursday for showers and thunderstorms to move through, mainly in the afternoon and evening.
This doesn't appear to be a severe weather event for us because of the southeast flow and the marine area that gets involved but there is a strong upper trough swinging through so we will assess the situation tomorrow and Thursday. Slow improvement comes Friday with clouds and some sun with the risk for a passing shower or two. Highs will be in the 60s.
WARMER WEATHER FOR THE WEEKEND?
We are hoping for a decent weather weekend and a warmer weather weekend. Just getting the sun back will cause temperatures to bounce higher and with a little luck we could actually finish above forecast numbers being generated for both Saturday and Sunday. Right now 60s are forecast for Saturday and upper 60s to mid 70s are forecast for Sunday.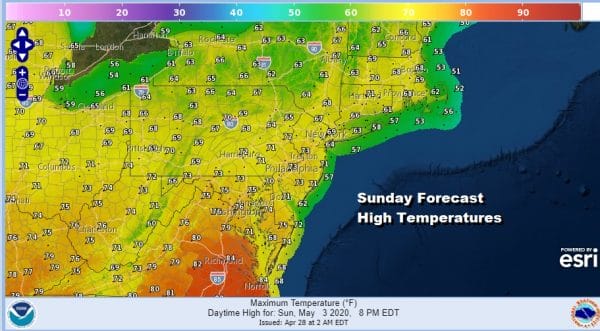 Weather systems continue to move along and another cold front arrives Sunday night and there could be some showers and thunderstorms with that. We can hope that they hold off until after sunset so we can at least keep it dry during the day. Next week looks to start cool again with perhaps another weather system and onshore flow issues developing.
MANY THANKS TO TROPICAL TIDBITS FOR THE USE OF MAPS
Please note that with regards to any severe weather,  tropical storms, or hurricanes, should a storm be threatening, please consult your local National Weather Service office or your local government officials about what action you should be taking to protect life and property.