Better Day Ahead Warmer Week Ahead Thunderstorm Risk Late Week

Better Day Ahead Warmer Week Ahead Thunderstorm Risk Late Week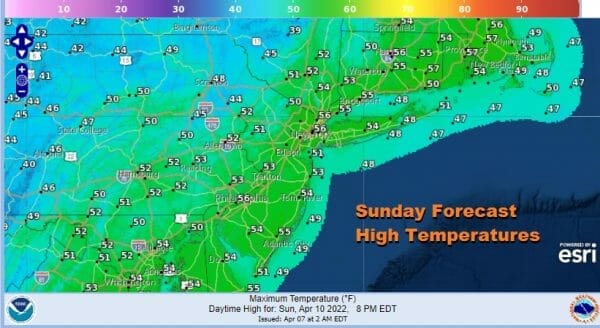 Today is going to be the better of the two weekend days. We can already see improvement on the satellite views this morning with some clearing that occurred overnight. An upper trough that has been crawling across the Eastern US is finally making its exit offshore. Today should be no worse than a partly sunny day. There are still some instability issues that are causing some clouds. There is also some activity showing up on the radars but this should diminish somewhat as we move through the day. Highs will be in the low to mid 50s in most places.
SATELLITE

WEATHER RADAR

Tonight will be a cold clear night with most lows in the 30s though there will be some 20s well inland and some patchy frost is possible. Monday we will see sunshine for most of the day. The leading edge of warmer air will be pushing eastward. Highs will be in the mid 50s to around 60 degrees.
A warm front will be moving through the Great Lakes and Northeast Monday night into early Tuesday morning and ahead of it we could see some rain for a few hours as the front goes by, probably between 3am and 8am Tuesday. Afterwards skies should become partly to mostly sunny and Tuesday's highs will push up into the 70s.

We will probably take a half step back in temperatures Wednesday from NYC north and east where the south wind will be an issue as far as temperatures are concerned. Highs will be in th 60s to near 70 degrees from NYC north and east while south and west of Philadelphia, Southern New Jersey and points south it will be in the mid to upper 70s. Skies should be no worse than partly sunny.
Thursday we will have a cold front approaching and moving through and that will be our chance this week of some showers and thunderstorms. Highs will be in the mid 70s to around 80 degrees Thursday.  There will be severe weather this week across the Plains and Mississippi Valley as well as parts of the south. There is a chance we could see some scattered stronger thunderstorms when this front passes late Thursday.
Weather conditions should improve Friday but Easter Weekend could have some issues. There are differing ideas on how the weekend plays out. For now we will lean to the idea that Saturday into Sunday will be dry but some rain could be coming later on Sunday. It is an early guess and subject to change depending on how the next trough drops into the Eastern US.
Please note that with regards to any severe weather,  tropical storms, or hurricanes, should a storm be threatening, please consult your local National Weather Service office or your local government officials about what action you should be taking to protect life and property.