Best Weather Day Of The Week Severe Weather Risk Wednesday

Weather in 5/Joe & Joe Weather Show Latest Podcast
Best Weather Day Of The Week Severe Weather Risk Wednesday
Today is going to be the best weather day of this week. Skies are clear along the coast and we have some patchy clouds inland. There is a stalled front to the west and it won't start moving until tonight and Wednesday so we are left in a nice sweet spot for today.
Usually models during this time of year have a tough time with forecast high temperatures as they are often times too low especially in a set up like today. Forecast highs have been pushed higher from what we saw over the last few days and low to mid 70s seems quite reasonable. Even along the coast the sea breeze will be kept at bay for most of the day allowing temperatures to reach these goals.
SATELLITE

Radars are quiet today and tonight and in fact we won't see any rain until Wednesday afternoon when a line of showers and thunderstorms develops to our west in Pennsylvania and then moves eastward. It will be a narrow line so we should be quiet tonight and probably we start Wednesday with some sun before clouds take over.
The Storm Prediction Center has expanded the severe weather risk area further north to include the upper Hudson Valley. The risk area also cuts off just east of NYC due to the south wind. That will make for a cooler more stable atmosphere to the east. Prime time for thunderstorms will be from 3pm to 6pm from west to east. Highs Wednesday will be in the mid to upper 60s except cooler along south and east facing shorelines.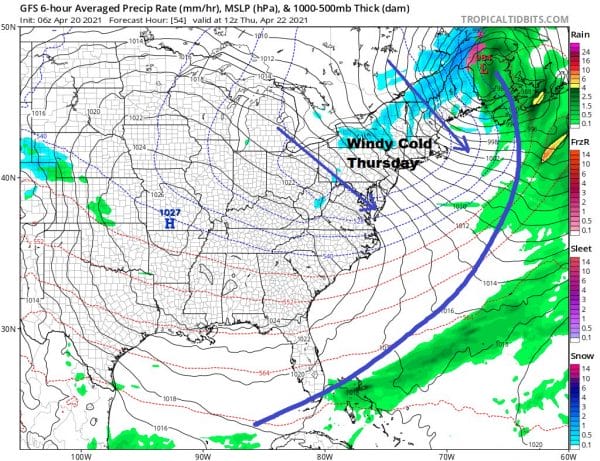 Windy cold conditions take over for Thursday into Friday. Low pressure strengthens in Eastern Canada and cold high pressure moves into the Middle Mississippi Valley. The gradient is tight so look for gusty winds 25 to 35 mph at times from the northwest. We should be just under wind advisory criteria. Look for clouds and sun Thursday with highs just in the upper 40s and lower 50s. Friday we should see sunshine and it will still be breezy with highs in the upper 50s and lower 60s.

MANY THANKS TO TROPICAL TIDBITS FOR THE USE OF MAPS
Please note that with regards to any severe weather,  tropical storms, or hurricanes, should a storm be threatening, please consult your local National Weather Service office or your local government officials about what action you should be taking to protect life and property.