Belmont Stakes Weather Forecast
Belmont Stakes Weather Forecast
Temperatures Mid To Upper 70s Sun With Arriving Clouds
Showers Hold Off (Hopefully) Until After Belmont Stakes
Before we address this issue we thought we should mention the heavy downpours moving through this afternoon. It is improving rapidly from west to east and we should see some sun breaking through the clouds late this afternoon and evening. Temperatures dropped into the 50s with the rain but it should rebound into the 60s going into this evening. No rain is forecast tonight through Friday so the track should be fast and the turf good for Thursday (depending on how fast it dries). Fast & firm is the track/turf condition for Friday and for the start of Saturday's card and at least for the first 9 or 10 races.
Belmont Stakes Weather Forecast
Now with regards to the races after 5pm alot is going to hinge on the speed and strength of a cold front dropping down from upstate New York. Frankly I'm not impressed with any of the dynamics here. So the question is whether something winds up popping up over the track just as the race goes off. My suggestion is to handicap for fast and firm. The turf may not be like cement because of today's rains and the lack of any hot weather. Temperatures the next three days including Saturday will be in the 70s.Race time temp should be about 75-77 with clouds..no rain but perhaps a threatening sky to the north and west. Here are the weather model horses and morning line odds for being correct
Belmont Stakes Weather Forecast
GFS MODEL NO RAIN UNTIL EVENING 5-2
This model has been running a little more consistent of late and has a tendency to back of from dire scenarios like the one it painted earlier this week of all rain and wind. Has a tendency to back away from rain as reality draws close…sort of hanging like a chandelier in the stretch. Dangerous when on its game.
NAM MODEL LONE SPEED HERE HAS RAIN IN THE AFTERNOON ODDS 6-1
The NAM model is the king of inconsistency and tends to overdue it in the early stages and then fades when we hit the stretch drive on the day of the event. Seems unlikely to be correct in bring in the rain sooner. The long shot in the model field but it will need support from others.
EUROPEAN WEATHER MODEL (SHIPPER) HAS NO RAIN AT ALL ODDS 3-5
There is sadly no map that is publically available to show here. However I go the inside scoop from all the weather wiseguys on this horse. Euro model is usually the model of consistency  and when it is on its game it is usually tough to beat. It has signaled no rain for Saturday at all and no rain for Saturday night. Lack of any moisture here might give it a lot of support. Big shot and the pick here.
CANADIAN WEATHER MODEL (ANOTHER SHIPPER) HAS VERY LITTLE RAIN ODDS 6-5
This model most of the time is very weak however it can be useful here as it seems to line up well with the European model. It would suggest very little rain around for Saturday evening and none for the day at all. It might be a good pick at a slightly better price than the odds on Euro model. Can take it all on its best day.
Once we have the weather question settled JOESTRADAMUS will have his picks. And I will be live from Belmont for FiOS1 News on Saturday so if you see me please say hello! Hopefully my Belmont Stakes Weather Forecast will payoff.
FiOS1 News Weather Forecast For Long Island
LATEST JOESTRADAMUS ON THE LONG RANGE
Weather App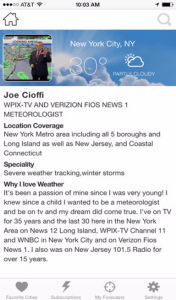 Don't be without Meteorologist Joe Cioffi's weather app. It is really a meteorologist app because you get my forecasts and my analysis and not some automated computer generated forecast based on the GFS model. This is why your app forecast changes every 6 hours. It is model driven with no human input at all. It gives you an icon, a temperature and no insight whatsoever.
It is a complete weather app to suit your forecast needs. All the weather information you need is right on your phone. Android or I-phone, use it to keep track of all the latest weather information and forecasts. This weather app is also free of advertising so you don't have to worry about security issues with your device. An accurate forecast and no worries that your device is being compromised.
Use it in conjunction with my website and my facebook and twitter and you have complete weather coverage of all the latest weather and the long range outlook. The website has been redone and upgraded. Its easy to use and everything is archived so you can see how well Joe does or doesn't do when it comes to forecasts and outlooks.
Just click on the google play button or the apple store button on the sidebar for my app which is on My Weather Concierge. Download the app for free. Subscribe to my forecasts on an ad free environment for just 99 cents a month.
Get my forecasts in the palm of your hand for less than the cost of a cup of Joe!
MENTION JOE CIOFFI AND GET A 5% DISCOUNT