Beautiful Sunday Changes Start Monday Severe Weather Risk Tuesday
This Sunday is essentially a repeat performance of Saturday with blue skies, sunshine, & low humidity. It is a simple straight forward forecast. There are no weather issues for today at all. The radars are nice and silent. Highs temperatures will be in the upper 70s and lower 80s and the dew points will be low meaning that the relative humidity will be low. Enjoy the day with whatever you have planned.
SATELLITE

REGIONAL RADAR

Tonight will be another clear comfortable night with most lows in the mid 50s to near 60 inland and low to mid 60s warmer urban centers and coastal areas. Again there are no weather issues here. Monday will start with sunshine but some high clouds will arrive later in the day as we transition over toward a warmer more humid air mass. Highs will be in the low to mid 80s. Then we move on to Monday night and Tuesday which brings a warm front cold front combination to deal with Late Monday night into early Tuesday morning there could be a shower or thunderstorm as the warm front goes by.
Tuesday will be another situation of who gets into the warm sector and how much daytime heating occurs. This creates severe weather risk for our area and the NAM model has been very useful this summer in spotting severe weather threats. The Storm Prediction Center has much of the area at either a marginal or slight risk for severe weather late Tuesday into Tuesday night.
This is a rather bullish forecast for 3 days out so I would not at all be surprised to see this beefed up a bit if the warm front gets further north. We may see the severe weather risk area adjusted into the lower Hudson Valley and Connecticut depending again on how far north the warm front gets.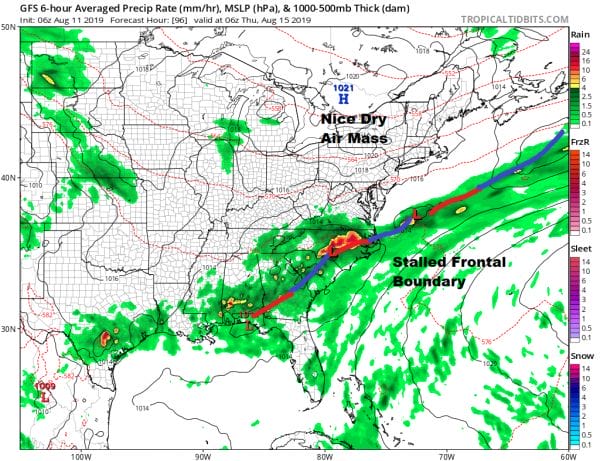 Once the front passes it becomes a matter of how far south the front gets before it stalls out. Weather models seem to push the front down to about North Carolina. This is far enough south to allow dry air from high pressure to our north to bleed southward. While there may be leftover clouds around Wednesday at least to start we should see improvement as the day wears on with highs in the low to mid 80s. Humidity levels will drop again later Wednesday into at least Thursday and that dry air could reach as far south as Maryland and Northern Virginia again. I'm leaning toward sunshine and some clouds for Thursday and Friday with highs both days in the low to mid 80s.
MANY THANKS TO

TROPICAL TIDBITS

FOR THE USE OF MAPS
Please note that with regards to any tropical storms or hurricanes, should a storm be threatening, please consult your local National Weather Service office or your local government officials about what action you should be taking to protect life and property.