Beautiful Saturday into Sunday Rain Should Hold Off Until Sunday Evening
Beautiful Saturday into Sunday Rain Should Hold Off Until Sunday Evening

Finally we have a beautiful day of weather in the Northeast and Northern Mid Atlantic states. The blocking low is all gone now. We have virtually cloud free skies and lots of sunshine. Temperatures are responding by bouncing nicely higher and we will see highs this afternoon in the low 70s in most places. Some places could push the envelope to 75 while along the shore local sea breezes will keep temperatures in the 60s. No clouds means no showers and the radars are nice and quiet.
SATELLITE

WEATHER RADAR

Tonight should be nice anc clear with urban centers and the coast bottoming 50 to 55 by Sunday morning while inland lows will be in the reasonable 40s. Sunday we will start off with mostly sunny skies and that should last into the afternoon but there is a disturbance moving southeast from the Great Lakes with some showers. They should hold off until later Sunday evening. Highs Sunday will be in the 70s.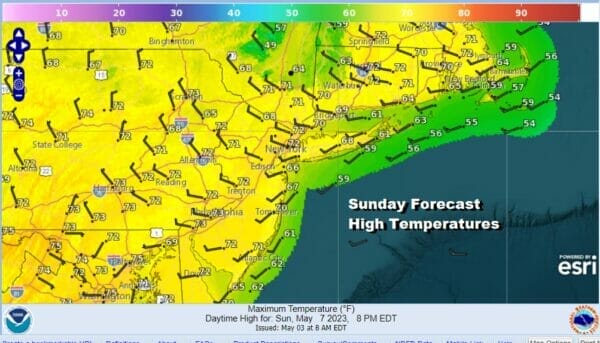 Showers Sunday night won't produce much in the way of rain, perhaps 1 to 2 tenths of an inch at most. They should be gone by Monday morning. There isn't going to be much of a change in air masses after the disturbance passes. A second disturbance wlll arrive during Tuesday.
Clouds early Monday should quickly give way to sunshine and that will allow temperatures to climb to the middle and possibly the upper 70s in some places away from the ocean. There won't be much of a sea breeze to worry about except right along the immediate shore.
Ahead of the disturbance Tuesday winds will turn southeast and that will hold temperatures mostly in the 60s. So will clouds and the likelihood of some showers in the afternoon and evening. This system will keep moving along so skies should clear out later Tuesday night leaving us with some sunshine on Wednesday with highs in the 60s. The rest of the week looks to be dry and seasonal temperature wise with no complications other than some patchy clouds.
Please note that with regards to any severe weather,  tropical storms, or hurricanes, should a storm be threatening, please consult your local National Weather Service office or your local government officials about what action you should be taking to protect life and property.