Beautiful July 4th Hot Humid Pop Up Thunderstorms Possible Sunday Monday
We just seem to be rolling along here this July 4th weekend. Last night we dealt with heavy thunderstorms in some areas mainly north and east of NYC. This evening we are aren't see much activity at all. A weak frontal boundary lies close to the area. Temperatures reached the upper 80s to a few lower 90s. Dew points were in the mid 60s so the humidity was out there today. There are no weather issues this evening to worry about other than a few passing clouds and the odd pop up shower or thunderstorm.
SATELLITE

REGIONAL RADAR

The regional and local radars show nothing more than isolated to scattered activity this evening. Much of this will disappear after sunset. The vast majority of the area won't see a drop of rain.
LOCAL RADAR NEW YORK CITY
LOCAL RADAR PHILADELPHIA

Tonight will be warm and humid with most lows in the mid 60s to lower 70s and we should see mainly clear skies. This sets us up for a hot and humid Sunday of sunshine. Highs will reach the upper 80s to lower 90s in most places. We will throw in the slight chance for a pop up isolated shower or thunderstorm but again 99 percent of you won't see a thing.
This is going to be a week ahead of weak weather fronts coming through from time to time which means it will be very warm to hot into Wednesday with some sunshine each day and the odd chance for a pop up downpour or thunderstorm. Most highs each day will reach the upper 80s to low and even a few middle 90s. We don't see any major changes occurring until late next week when a frontal boundary sets up along the East Coast at the end of the week.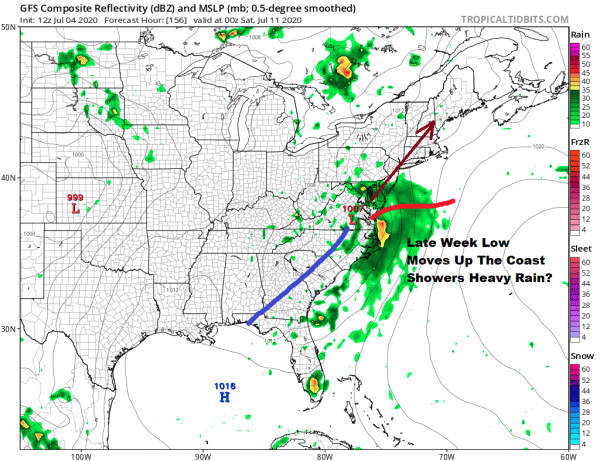 An interesting scenario occurs on the European with a low off the coast rather than inland and it actually makes you wonder whether something tropical or subtropical could come of this late this week into next weekend. In the meantime, let's enjoy the summery weather into at least this coming Wednesday.
Here is a bit of a surprise. The National Hurricane Center as late as yesterday evening said no tropical cyclones are forecast for the next 5 days and late this morning the season's 5th tropical depression forms to the west of Bermuda.
SUMMARY OF 500 PM AST…2100 UTC…INFORMATION
———————————————-
LOCATION…31.8N 67.3W
ABOUT 150 MI…240 KM WSW OF BERMUDA
MAXIMUM SUSTAINED WINDS…35 MPH…55 KM/H
PRESENT MOVEMENT…ENE OR 65 DEGREES AT 16 MPH…26 KM/H
MINIMUM CENTRAL PRESSURE…1007 MB…29.74 INCHES
This could become a tropical storm tonight or Sunday as it moves quickly away to the northeast. If this happens it will be the 5th named storm of the season and the earliest we have ever gotten to the 5th storm on record. Other than a brief pass at Bermuda this poses no threat except to shipping in the Atlantic.
MANY THANKS TO TROPICAL TIDBITS FOR THE USE OF MAPS
Please note that with regards to any severe weather,  tropical storms, or hurricanes, should a storm be threatening, please consult your local National Weather Service office or your local government officials about what action you should be taking to protect life and property.