The weather pattern continues to settle down across the Northeast and Middle Atlantic States and we will have a beautiful day of sunshine on this Tuesday with just a few clouds coming in from the west later in the day. The large high to the north continues to settle southward with no real cold air around so the early October sun should be able to warm temperatures back into the 70s.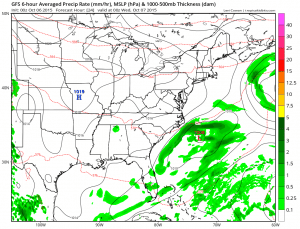 As far as the record rains go the area of low pressure and the upper low responsible will continue to kick away to the northeast offshore. Wednesday we will see a weak front go through with just some clouds but the day should be partly sunny and it should still be on the warm side with temperatures in the 70s. Thursday looks good with a new cooler air mass building down from the north so we should have another day of sun and temperatures will be a little lower with most highs in the 60s.
Friday we see the arrival of a cold front and this front has a little more support with it. Showers should move into Eastern Pennsylvania during the late morning or early afternoon and spread to the coast by late afternoon. It doesn't look like this will be a large rain producer as the front should move through Friday night and keep on moving. This should set up for a pretty good Columbus Day holiday weekend. Saturday and Sunday right now appear to by dry with some sunshine both days. Warmer air will arrive Sunday night and there could be a brief shower with that. Then Columbus day could turn out to be nice and warm. Im thinking 60s over the weekend days and may in the 70s come Monday. No big storms are on the horizon at this stage of the game. JOESTRADAMUS took the day off on Monday and he may be back with a longer range view on Tuesday.
JOESTRADAMUS also suggests you take the opportunity while the weather is tranquil to download the weather app and subscribe to my forecasts for New York, New Jersey, Eastern Pennsylvania, Long Island, New York City, Hudson Valley and Connecticut. The app is free and the subscription is just 99 cents a month. The app is free from any advertising so there are no security or tracking issues to worry about. Great to have for your personal or business needs.