Beautiful Day Followed By Another Beautiful Day Wednesday


You couldn't ask for a better day with lots of sunshine. The wind has been a bit busy today from the northwest but the sunshine more than compensates for this. We are at least catching some breaks from the poor weather of the past month and a half. There are no weather issues through Wednesday evening. The satellite shows nice clear skies. We are enjoying temperatures in the seasonal upper 60s and lower 70s and lows tonight will be in the mid 40s to low 50s in most places under a clear sky. Radars are taking a well deserved break at the moment.
SATELLITE

REGIONAL RADAR

Wednesday will be another winner with sunshine and just a few passing clouds as highs will be in the 70s. Meanwhile we have a major storm in the Plains producing another day of vicious severe weather across the Mississippi Valley. Snow is falling in the Central Rockies. Talk about no spring, snow has been falling in Colorado and we aren't talking about just higher elevation areas. Lucky for us the storm is reaching its peak as it heads northward.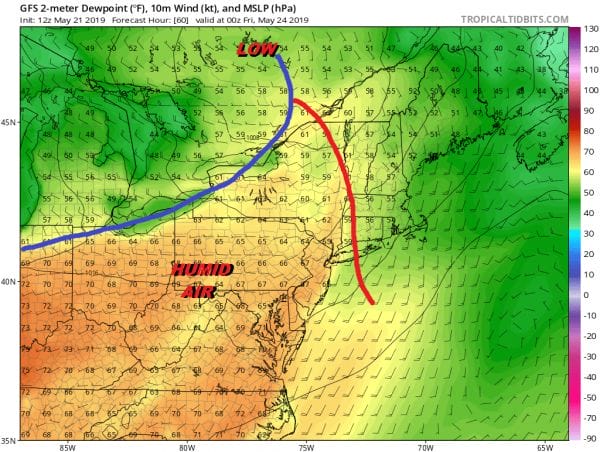 A warm front will be approaching Thursday morning followed by a cold front Thursday night. Humidity will come up somewhat on Thursday with temperatures in the 70s to near 80. This could put us at risk for some thunderstorms and the Storm Prediction Center has us at risk for severe weather Thursday. Then of course we are all looking forward to Friday as the Memorial Day holiday weekend gets underway.
MANY THANKS TO

TROPICAL TIDBITS

FOR THE USE OF MAPS
Please note that with regards to any tropical storms or hurricanes, should a storm be threatening, please consult your local National Weather Service office or your local government officials about what action you should be taking to protect life and property.