Backdoor Fronts Severe Weather Risks And Nice Cool Weekend

Backdoor Fronts Severe Weather Risks And Nice Cool Weekend

A backdoor cold front has moved southwestward and it is sitting today across Western New Jersey and Northeastern Pennsylvania. To the west and south we are going to see high temperatures in the upper 80s and lower 90s. To the east of the blue line on the map we are going to see much cooler highs in the 60s to lower 70s thanks to an east to southeast wind off the ocean. Also we do have some clouds around that will help to hold the temperatures down in areas from NYC eastward. Most of the day will be on average partly sunny though areas north and east of NYC will have more of a cloud battle on their hands.
SATELLITE

WEATHER RADAR

Regional radar is showing showers and thunderstorms coming in from Canada and into Northern NY. We are going to see the backdoor front move the other way today as a warm front while a cold front approaches from the northwest. This opens the door for shower and thunderstorm chances tonight with the potential for severe weather.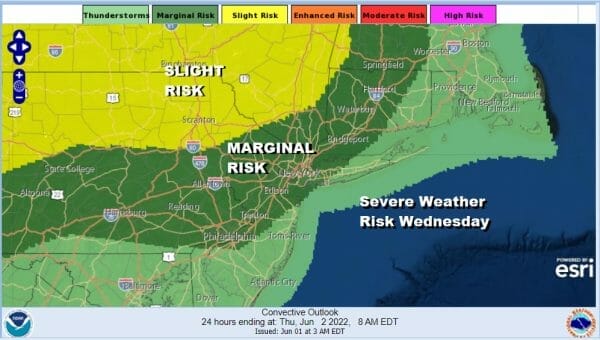 The Storm Prediction Center is forecasting a marginal to slight risk and the greatest risk is more inland than at the coast. This forecast will be updated later today by SPC and we will pass that along on our Weather in 5 video later today. This front is going to pass through tonight and then stall out to our south Thursday.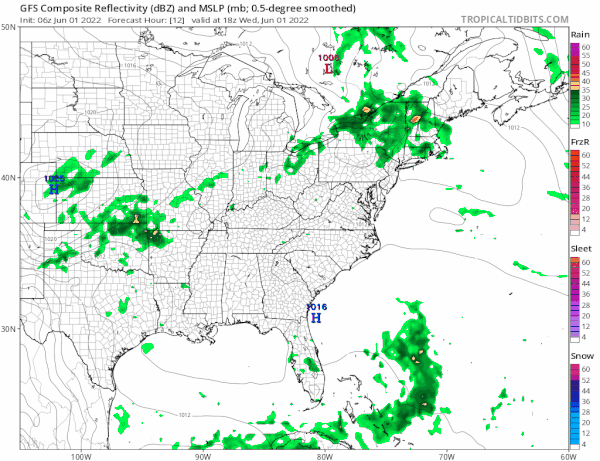 The stalled front buckles and there will be a wave of low pressure that develops on the front and heads northeast. This will bring the chance for showers and possible thunderstorms later Thursday and Thursday night. Here too we have severe weather risk but this time it will be from Central, Southern New Jersey and Southern Pennsylvania southward. Thursday highs will be in the upper 70s near the coast and low to mid 80s inland.
Weather systems are moving along from west to east with regularity so look for improving weather conditions Friday. Decreasing clouds and increasing sunshine and a nice northwest breeze will keep highs in the 70s. The weekend is looking good with lots of sunshine Saturday and no worse than partly sunny Sunday with highs both days in the 70s.
Please note that with regards to any severe weather,  tropical storms, or hurricanes, should a storm be threatening, please consult your local National Weather Service office or your local government officials about what action you should be taking to protect life and property.