Backdoor Front Moving South Faster This Morning Winter Weather Advisory North
Backdoor Front Moving South Faster This Morning
Winter Weather Advisory North

Looking at the surface observations this morning and seeing where the winds have already shifted to the northeast, that backdoor cold front is on the move a bit faster and will likely start impacting temperatures soon around NYC and areas north and east of there while areas in New Jersey and Southeastern Pennsylvania enjoy another day of temperatures in the upper 70s and lower 80s before the bottom falls out tonight and Sunday.
SATURDAY'S FORECAST HIGH TEMPERATURES
At least for now we have plenty of sunshine as we can see on the satellite picture below however once the winds kick in from the northeast you can start to expect clouds to follow from northeast to southwest. Don't be surprised if a little rain or drizzle shows up as well this evening.  All of this is being dictated by this major spring storm to the west with a huge circulation that extends from the Northeast to the Rockies. Across the Ohio Valley and Central Gulf States today it will be a serious severe weather event, across the Upper Midwest back to the Plains blizzard conditions continue this morning, and parts of the Northern Lakes to Western New York could see a substantial icing event from this.
US SATELLITE

REGIONAL RADAR

LOCAL RADAR NEW YORK CITY
LOCAL RADAR PHILADELPHIA

At least for now the radars are quiet. Once the backdoor moves through it will be a whole different world for Sunday. Winter Weather Advisories are up for the Catskills and the Middle Hudson Valley as well as Northwestern Connecticut. Some models bring the freezing line almost to NYC on Sunday. We aren't quite that radical at the moment in our outlook.
SUNDAY FORECAST HIGH TEMPERATURES
Precipitation that falls on Sunday will be on the light side but Sunday night and Monday as a cold front pushes east, we will see some heavy downpours especially for the Monday morning commute. Some thunderstorms could get into the mix too. Rainfall amounts will be on the order of 1.50 to 2 inches in most places with some locally higher amounts possible.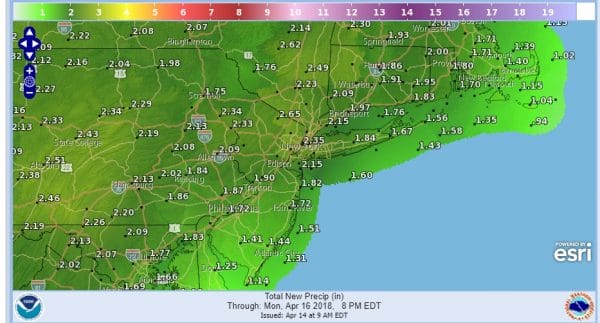 Weather conditions should begin to improve later Monday afternoon and evening from west to east and dry chilly weather returns on Tuesday. As far as super warm weather is concerned this may be it for awhile so enjoy the precious hours.

GET JOE A CIGAR IF YOU LIKE 
FiOS1 News Weather Forecast For Long Island
FiOS1 News Weather Forecast For New Jersey
FiOS1 News Weather Forecast For Hudson Valley
LATEST JOESTRADAMUS ON THE LONG RANGE